EyePlateReader
Efficient recognition and reading of number plates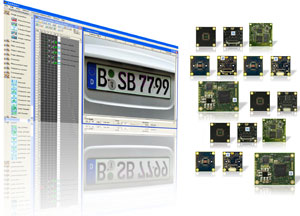 EVT presents the EyePlateReader system, which is based on the EyeVision image processing software and is designed to recognize, read and evaluate number plates.
The system runs on a ARM Cortex A8 Dual Core CPU. For this application the EyeBlock hardware is ideally suited for recognizing and reading number plates in moving traffic. Also for very fast applications an ARM A9 is recommendable. Whereas the base for this solution is the new OCR module, which even under very difficult conditions is recognizing the characters on the number plates.
Due to the standardized modules, the EyeBlock hardware allows the user to select for each application the appropriate computer module. The connection to the sensor module is also standardized and therefore all sensor modules are available for various computer modules.

No matter if the camera module is located close to the processor, where the data can be transferred parallel or if the module is far away and the image data should be transferred serial, the appropriate module can be found easily.
For the user there is only the easy-to-handle EyeVision graphical user interface, with which even the non-versed user can create the efficient inspection program for reading any number plate on a moving car. Additionally the EyeVision software interface stays the same with every hardware, so there is no difficult relearning when one decides to use another hardware.
With the EyeVision software all systems are graphically configured with a Qt-based user interface, and is easy to maintain and adjust to new applications.
The EyeVision is a software is not only efficient but also completely programmable by its drag-and-drop function.