EyeMIO multifunction-PLC-IO-Module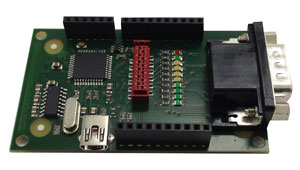 EVT presents the new EyeMIO – a multifunction-PLC-IO-Module and in combination with the EyeVision image processing software it is especially suitable for the usage in industrial environments. Together with the machine vision systems by EVT Eye Vision Technology the EyeMIO takes over the control of the peripheral devices and therefore forms the physical interface between the image processing system and the production facilities. The EyeMIO has a number of standardized interfaces available such as e.g. a USB 2.0 and a serial RS232 interface. Additionally the module possesses 4 digital inputs and 4 digital outputs, each with indicator LED.
As additional communication between the various different circuit parts EyeMIO offers a 2-wire serial interface (I²C) and also a 1-wire interface.

The module has as a special feature a built in temperature sensor, which is especially useful in industrial environments. In addition the EyeMIO has 4 status LEDs.
Due to the EyeMIO the EyeVision image processing software offers even more variation concerning the possible applications. Naturally the EyeVision software offers the complete command set for applications such as measurement technology, object detection, pattern matching or code-reading. For example the newly revised bar code reader function, which is not only a powerful tool but also easy to handle.
Owing to the drag-and-drop function of the software no programming skills are necessary to create an inspection program – the user just has to drag the command icon and drop it in the program editor of the software and the system is ready for action.