EyeCheck ZQ – the Smallest Smart Camera on the Market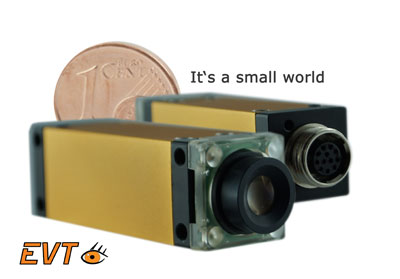 EVT presents the EyeCheck ZQ smart camera, which is hardly bigger than an index finger and which is therefore the smallest intelligent camera on the market. And also the illumination of four LEDs is already included in the camera. Also included in the EyeCheck ZQ is the EyeVision image processing software. The software is suitable for applications such as code reading (bar code, DMC, QR), OCR/OCV, pattern matching, recognizing errors and counting and measuring objects.
Additionally the EyeVision software can be programmed via drag-and-drop function, which means that even without programming skills inspection programs are easily created. The commands are wrapped up in icons, which can be lined up to an inspection program. For reading a bar code only three icons would be necessary.
The EyeCheck ZQ is not only really small, but due to the real-time evaluation based on the combination of the EyeVision software and the ZYNQ board, also really fast. The camera can process the application much faster than any other camera of the EyeCheck series, because of the powerfull ZYNQ and the DualCore ARM processor.
And due to the speed, size and light weight is the EyeCheck ZQ smart camera a perfect solution for any robot arm in the production line in the automotive or electronic industry.
The EyeCheck ZQ smart camera is also available as vision sensor. As EyeSens vision sensor the camera contains all software functions of the EyeSens series. This means that depending on the application the vision sensor can be equipped as BCR (Bar Code Reader), Matcher, or Measure (measurement technology sensor). As the commands are especially selected for the application at hand, the setup is quite easy.
The small size of the camera is not only suitable for robots but also for applications with limited available space, also because the illumination is already integrated.
Company Contact
Margarita Palmer
Tel: +49721 626905-82