EyeBlock
rong>Build your embedded Vision System from Blocks!

With EyeBlock by EVT the user now is able to not only to create an image processing solution with the graphical user interface of the EyeVision software but the user can create also an embedded solution with the optimally for image processing matched components by Phytec.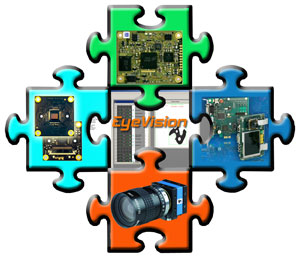 The EyeBlock system allows the user with the EyeVision software to easily create embedded image processing systems. If it should simply be a sensor or if there should be solved a complex, computationally intensive application: with the EyeBlock system the appropriate hardware can be selected and combined quite easily and with the ready-to-use EyeVision software the image evaluation can be created by drag-an-drop even easier. And with the components by Phytec an embedded solution can be assembled in no time at all.

Additionally with the integrated WebServer of the EyeVision software a web interface, by which an appropriate and easy-to-handle GUI can be created with only a few lines of HTML5.

The new EyeVision Software Release 3.0 supports with EyeCore the easy allocation of image processing tasks onto several cores. This one can use not only for the PC but also for multicore embedded systems such as the OMAP5 platform by Phytec.

The required space is little (40 x 45 mm) so that even with the highest computing power and the dual Core 2.2 GHz ARM processor with Linux, the image processing hardware can be accommodated on very little space. Additionally the very low rejected heat of the ARM Cortex architecture (known e.g. from the iPhone, iPad and also android systems or the Raspberry PI) allows the integration in nearly every housing without an additional heat rejection section.

Beside the camera modules which are offered by Phytec, EVT can also via the LINUX USB driver support, access several USB cameras by for example The Imaging Source.

No matter if the camera module is located close to the processor, where the data can be transferred parallel or if the module is far away and the image data should be transferred serial, the appropriate module can be found easily.

And even if it's not, due to the USB connections of the processor numerous USB cameras, which can also be used parallel to the directly lockable camera modules, are available.