Extremely Fast Baumer EtherCAT Encoders Provide Positioning and Speed Data for Multi-I/O Systems
Baumer Ltd.

Optional Power over EtherCAT (PoE) Minimizes Cabling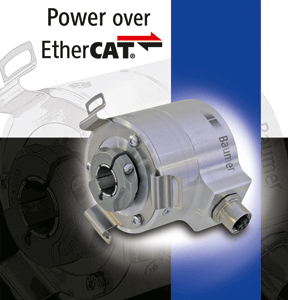 Offering extremely fast cycle times of just 62 ms, Baumer's new high speed Absolute ATD EtherCAT Encoders deliver extremely fast positioning, speed control and motor feedback data to simplify communication between drives and control systems in multi- I/O equipment. These compact encoders experience very little clock phase jitter and are available with optional Power over EtherCAT (PoE) to minimize cabling requirements and associated malfunctions.
As these compact Absolute ATD EtherCAT Encoders measure just 80 x 58 mm, they are ideal for use in limited space applications including robotic and automated systems. These single or multi-turn encoders are compatible with the CANopen over EtherCAT (CoE) protocol and offer 14-bit single-turn and 16-bit multi-turn resolutions.
Because Power over EtherCAT delivers power and transmits field bus signals using just one cable, Baumer Absolute ATD PoE EtherCAT Encoders are a cost-effective alternative to expensive and complex multi-cable systems. These encoders are especially suitable for difficult-to-access applications.
These encoders can be used on robotic arms, robotic pick-and-place systems, automated packaging lines, material handling equipment, laboratory automation equipment, medical imaging systems, printing equipment, textile processes machines, theater sets, and in other applications where cable movement and cable life are a concern.
The Baumer Group is a leading international manufacturer of sensors and system solutions for factory and process automation. In 2010 the innovative family-owned company employs about 2,000 people worldwide in 35 locations and 18 countries. The long lasting success of Baumer is built on high customer focus as well as the innovative and diversified product range of the five product segments Sensor Solutions, Motion Control, Vision Technologies, Process Instrumentation, and Gluing Systems.