Extreme Rugged™ HPERC-IBR Computer System
VITA 75 compliant COTS solution targets mission critical applications for ground, air vehicles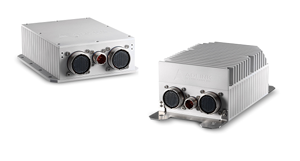 ADLINK Technology, Inc., a leading provider of embedded computing products and Application Ready Intelligent Platforms (ARIP), today announced release of the new Extreme Rugged™ HPERC-IBR system. The HPERC™ Series is a high performance Extreme Rugged computer system offering a compact, highly reliable and efficient processing unit to meet challenging SWaP (Size, Weight and Power) requirements for modern ground and aerial vehicle applications. HPERC offers one of the first product implementations of the VITA 75 standard to address commercial off-the-shelf (COTS) requirements for Unmanned Ground Vehicle (UGV) applications.
"The HPERC system offers intense capabilities in a VITA 75 footprint, leveraging Intel® Core™ i7 processing power coupled with a GPGPU and a wealth of I/O support for camera and vehicle data busses," said Jeff Munch, director of ADLINK's Small Form Factor Product Center. "This solution can readily provide the necessary image processing and I/O required for UGV applications both today and in the future."
In addition to the 3rd generation Intel Core processor and optional GPGPU, the HPERC-IBR also offers DDR3L-1333 ECC soldered down memory up to 16GB and dual removable solid state drives with available RAID 0/1, as well as 4 USB 3.0, 2 USB 2.0, 4 Ethernet, 7 Serial, 8 GPIO and 3 HDMI/DisplayPort/DVI interfaces. The HPERC-IBR also has expansion options to support fast and easy integration of additional interface cards such as PCI/104-Express and Mini PCI Express.
To endure harsh environments, the HPERC-IBR was developed using ADLINK's Rugged by Design methodology to withstand extreme shock, corrosion and galvanic oxidation. The HPERC-IBR offers flexible cooling options: the HPERC-IBR-MC (-40°C to + 85°C) for cold-plate cooling, and the HPERC-IBR-MH (-40°C to + 75°C) designed for natural convection cooling.
The ADLINK HPERC Series is compliant to VITA 75 20/21/22 small form factor mounting and provides a wide array of fast I/O via MIL-DTL-38999 connectors. Additional expansion interfaces to meet the demands of various sensor suites are easily added with user-defined I/O pins.
About ADLINK Technology
ADLINK Technology provides a wide range of embedded computing products and services to the test & measurement, automation & process control, gaming, communications, medical, network security, and transportation industries. ADLINK products include PCI Express-based data acquisition and I/O; vision and motion control; and AdvancedTCA, CompactPCI, and computer-on-modules (COMs) for industrial computing. With the acquisition of Ampro Computers, Inc. and LiPPERT Embedded Computers GmbH, ADLINK also provides a wide range of rugged by design Extreme Rugged™ and rugged product lines including single board computers, COMs and systems.
ADLINK strives to minimize the total cost of ownership (TCO) of its customers by providing customization and system integration services, maintaining low manufacturing costs, and extending the lifecycle of its products. ADLINK is a global company with headquarters and manufacturing in Taiwan; R&D and integration in Taiwan, China, the US, and Germany; and an extensive network of worldwide sales and support offices.
ADLINK is ISO-9001, ISO-14001, ISO-13485 and TL9000 certified, is an Associate Member of the Intel® Intelligent System Alliance, an Executive Member of PICMG, a Sponsor Member of the PXI Systems Alliance, an Executive Member of the PC/104 Consortium, an initial member of SGeT (Standardization Group for Embedded Technologies), a Strategic Member of the AXIe Consortium, and a member of VMEbus International Trade Association (VITA). ADLINK is a publicly traded company listed on the TAIEX Taiwan Stock Exchange (stock code: 6166).
Embedded Vision
This content is part of the Embedded Vision curated collection. To learn more about Embedded Vision,
click here
.