Extreme Environment Operation of DC Servo Motors. What are the Challenges and What is Required?
Join us for a FREE Webinar on January 21st at 11:00 EST. Register Today!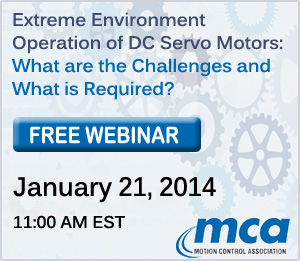 Target Audience
Engineers that need motors to run in extreme environments such as down hole drilling, high temperature, submersible, vacuum, space, etc.
Topics and Schedule
DC Motor selection background
Brushed and brushless DC motor
Heavy duty DC motors for harsh environments
Testing of heavy duty motors: Vibration, temperature, in oil, ...
Application fields of heavy duty motors
What You Will Learn
How to size a motor for a particular application
How key motor data change with ambient temperature and environment they run in
How to make a DC motor "Heavy Duty" and how the outcome is tested at maxon
Presenters: Dr. Urs Kafader and Dr. Robin Phillips, maxon motor AG

For more information, please contact:
Warren Osak
Toll Free Phone: 877-737-8698