Extra-Durable HMI Built to Withstand Extreme Conditions Added to Mitsubishi Electric Automation´s Extensive HMI Lineup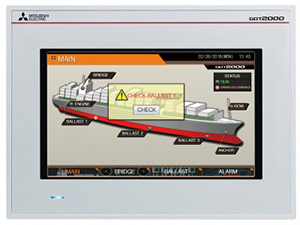 The GT25 Rugged Series HMI is suited for outdoor use where equipment damage is a significant risk
Machine designers and end-users in outdoor industries or where exposure to harsh elements is inevitable will be interested in the new GT25 Rugged human machine interface (HMI) from Mitsubishi Electric Automation, Inc. Reinforced with metal housing and equipped with an extra bright screen visible under direct sunlight, this interface is engineered for environments that would damage or destroy more vulnerable HMIs.
The GT25 Rugged can function at temperatures between -5 and 150° F (-20 to 65° C) and is resistant to vibration and shock. The metal housing also protects the internal components from direct blasts from high-pressure water jets and UV rays. This makes it an ideal choice as a monitor screen or control panel for applications that require outside installation, or risk exposure to harsh environments and procedures, such as automated parking systems, power conditioners, electric car charging stations, heavy machinery and food processing systems that use pressurized jets to clean equipment.
The sturdy hardware offers the same functions and capabilities found on the broader GT25 Series of HMIs, such as a flexible configuration, a convenient maintenance platform, remote connectivity, expanded memory (32MB ROM for storage; 128MB RAM for operation) and device monitoring functions.
"Most HMIs are not viable in outdoor, exposed environments," said Lee Cheung, product marketing engineer at Mitsubishi Electric Automation, Inc. "The GT25 Rugged presents an opportunity to improve machines and systems that typically do not have a specialized HMI built for them."
About Mitsubishi Electric Automation, Inc.
Headquartered in Vernon Hills, Ill., Mitsubishi Electric Automation, Inc., offers a wide range of factory automation products, solutions, training and support services for the industrial and commercial sectors. A U.S. affiliate company of Mitsubishi Electric Corporation, Mitsubishi Electric Automation represents more than 75 years' experience in the automation industry. A broad product portfolio includes programmable automation controllers (PAC), programmable logic controllers (PLC), human machine interfaces (HMI), variable frequency drives (VFD), servo amplifiers and motors, control software, computerized numerical controllers (CNC), motion controllers, robots and low-voltage power distribution products. The company takes its solutions on the road with the 53-foot long Solutions in Motion mobile showroom that appears at tradeshows, training seminars and other events across North America.
In addition to factory automation, Mitsubishi Electric US group companies' principal businesses include semiconductor devices, automotive electrical components, elevators and escalators, cooling and heating products, electric utility products, and large-scale video displays for stadiums and arenas. Mitsubishi Electric US group companies have roughly 31 locations throughout North America with approximately 4,000 employees.