Express-IBR with 3rd Generation Intel® Core™ Processors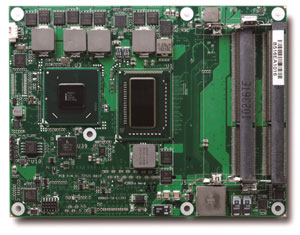 ADLINK Technology, Inc., a leading global provider of ruggedized embedded products, announces the release of its latest Ampro by ADLINK™ Extreme Rugged™ COM Express® module, the Express-IBR for airborne and vehicle-mounted military computers and human machine interfaces (HMI) applications required to function in harsh environments. The Ampro by ADLINK™ Express-IBR is a COM Express Type 6 module that supports the quad-core and dual-core 3rd generation Intel® Core™ i7 processors and Mobile Intel® QM77 Express chipset. Following ADLINK's Rugged By Design methodology, the Express-IBR is ideal for use in environments prone to severe shock, vibration, humidity, and extended temperature ranges.
"ADLINK's Express-IBR is equipped with the 3rd generation Intel® Core™ processor, which utilizes Intel's new 3D tri-gate transistor technology and 22nm process technology," said Jeff Munch, CTO of ADLINK Technology and chair of the COM Express COM.0 R2.1 Sub-committee. "This platform delivers higher performance per watt over previous-generation processors – a feature that is critical for rugged applications requiring high performance in high temperature environments."

"The 3rd generation Intel® Core™ processor-based platform delivers best-in-class performance and reliability for ruggedized applications," said Matt Langman, director of marketing, Intel Intelligent Systems Group. "The new platform offers continued support for ECC on select processor SKUs to ensure data integrity, and the introduction of next generation I/O?such as integrated PCI Express Gen 3.0 and USB 3.0?enables processing of a significant amount of data over the 2nd generation Intel® Core™ processor family at lower or same thermal footprint."

The Ampro by ADLINK Express-IBR is powered by a quad- or dual-core 3rd generation Intel® Core™ processor and provides support for USB SuperSpeed 3.0, PCI Express (PCIe) Gen 3, and up to three independent displays. The COM Express module offers up to 16GB ECC 1333MHz DDR3 memory in two SODIMM sockets; three Digital Display Interfaces can be independently configured for DisplayPort, HDMI or DVI; PCIe x16 (Gen3) for external graphics or general purpose PCIe (optionally configure as 2 x8 or 1 x8 + 2 x4); as well as two SATA 6 Gb/s, two SATA 3 Gb/s, Gigabit Ethernet, and eight USB 2.0 interfaces. The Express-IBR with dual-core processor is validated for reliable performance in extended temperatures ranging from 40°C to +85°C and features a 50% thicker printed circuit board (PCB) for high vibration tolerance.

The Ampro by ADLINK Express-IBR is a modular, power efficient solution for applications running in space constrained, extreme rugged environments. The Express-IBR is compatible with the COM Express COM.0 Revision 2.0 Type 6 pinout, which is based on the popular Type 2 pinout, but with legacy functions replaced by Digital Display Interfaces (DDI), additional PCI Express lanes, and reserved pins for future technologies. The new Type 6 pinout also supports SuperSpeed USB 3.0 interface, which was unavailable in COM.0 Rev. 1.0.

ADLINK Technology's Extreme Rugged modules, boards, and systems are designed for harsh environments from the ground up. Robust test methods, including Highly Accelerated Life Testing (HALT), ensure optimal product design phases and meet stringent requirements, such as extended temperature range, MIL-STD, shock and vibration, and long-term reliability.

For more information on Ampro by ADLINK Extreme Rugged Express-IBR or to get a quote, please visit http://www.adlinktech.com/ampro-extreme-rugged/computer-on-modules/.
About ADLINK
ADLINK Technology provides a wide range of embedded computing products and services to the test & measurement, automation & process control, gaming, communications, medical, network security, and transportation industries. ADLINK products include PCI Express-based data acquisition and I/O; vision and motion control; and AdvancedTCA, CompactPCI, and computer-on-modules (COMs) for industrial computing. With the acquisition of Ampro Computers, Inc. and LiPPERT Embedded Computers GmbH,
ADLINK also provides a wide range of rugged by design Extreme Rugged™ and Rugged product lines including single board computers, COMs and systems.

ADLINK strives to minimize the total cost of ownership (TCO) of its customers by providing customization and system integration services, maintaining low manufacturing costs, and extending the lifecycle of its products. ADLINK is a global company with headquarters and manufacturing in Taiwan; R&D and integration in Taiwan, China, the US, and Germany; and an extensive network of worldwide sales and support offices.

ADLINK is ISO-9001, ISO-14001, ISO-13485 and TL9000 certified, is an Associate Member of the Intel® Intelligent System Alliance, an Executive Member of PICMG, a Sponsor Member of the PXI Systems Alliance, and a Strategic Member of the AXIe Consortium. ADLINK is a publicly traded company listed on the TAIEX Taiwan Stock Exchange (stock code: 6166).