Express-HR COM Express® Type 6 Module
rong>ADLINK COM Express® Type 6 Module with high-performance integrated graphics for medical, gaming and military applications

The Express-HR features a quad/dual core Intel® Core™ i7 / i5 processor with the Mobile Intel® QM67 Express chipset to provide enhanced overall performance

SAN JOSE, CA – ADLINK Technology, Inc. (TAIEX:6166), a leading provider of embedded products, presents its latest COM Express® offering, the Express-HR. The Express-HR is a high performance COM.0 R2.0 Type 6 module featuring an Intel® Core™ i7/i5 processor and supporting the latest digital graphics interfaces for future designs. With its high-level processing and graphics performance and long product life, the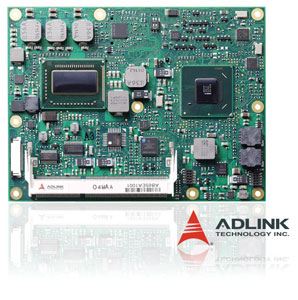 Express-HR is ideal for medical, gaming and military applications.

The Express-HR features the Intel® Core™ i7/i5 processor supporting Intel® Hyper-threading Technology (4 cores, 8 threads) and up to 16GB of DDR3 dual-channel memory at 1066/1333 MHz on dual stacked SODIMM sockets to provide excellent overall performance. Intel® Flexible Display Interface and Direct Media Interface provide high-speed connectivity to the Mobile Intel® QM67 Express chipset. Intel® HD Graphics is integrated on the CPU, and a PCI Express x16 bus is available for discrete graphics expansion or general purpose PCIe (optionally configure as 2 x8 or 1 x8 + 2 x4).

New with the Type 6 module are three Digital Display Interface (DDI) ports supporting HDMI, DVI and DisplayPort outputs, in addition to legacy VGA and dual-channel 18/24-bit LVDS displays. The Express-HR is specifically designed for customers with high-performance processing and graphics requirements who want to outsource the core logic of their systems and focus on their core competency for reduced development time.

The Express-HR features Gigabit Ethernet, up to eight USB 2.0 ports, two SATA 6 Gb/s ports and two SATA 3 Gb/s ports (RAID 0/1/5/10) and support for SMBus and I2C. The module is equipped with SPI AMI EFI BIOS supporting remote console, CMOS backup, hardware monitor and watchdog timer.

To accelerate your product development, ADLINK provides a wide range of tools to accompany the Express-HR, including the COM Express Type 6 Starter Kit that allows you to proceed with carrier board design and software verification simultaneously, the T6-DDI Video Adapter Card that provides easy access to the Express-HR's DDI ports, the PCIe x16-to-two-x8 Adapter Card, an the LPC POST Debug Board. ADLINK's complete range of COM Express engineering test tools will expedite your application development.

To see a demonstration of the Express-HR and COM Express Type 6 Starter Kit, visit ADLINK in Booth 300 at the ATCA Summit at the Marriott in Santa Clara, CA, on Sept. 18 and 19. For more information on the Express-HR or other ADLINK COM Express modules, please go to http://www.adlinktech.com/Computer-on-Module/.

About ADLINK
ADLINK Technology provides a wide range of embedded computing products and services to the test & measurement, automation & process control, gaming, communications, medical, network security, and transportation industries. ADLINK products include PCI Express-based data acquisition and I/O; vision and motion control; and AdvancedTCA, CompactPCI, and computer-on-modules (COMs) for industrial computing. With the acquisition of Ampro Computers, Inc. and LiPPERT Embedded Computers GmbH, ADLINK also provides a wide range of rugged by design Extreme Rugged™ and Rugged product lines including single board computers, COMs and systems.

ADLINK strives to minimize the total cost of ownership (TCO) of its customers by providing customization and system integration services, maintaining low manufacturing costs, and extending the lifecycle of its products. ADLINK is a global company with headquarters and manufacturing in Taiwan; R&D and integration in Taiwan, China, the US, and Germany; and an extensive network of worldwide sales and support offices.
ADLINK is ISO-9001, ISO-14001, ISO-13485 and TL9000 certified, is an Associate Member of the Intel® Intelligent System Alliance, an Executive Member of PICMG, a Sponsor Member of the PXI Systems Alliance, and a Strategic Member of the AXIe Consortium. ADLINK is a publicly traded company listed on the TAIEX Taiwan Stock Exchange (stock code: 6166).

Intel, and Intel Xeon are trademarks or registered trademarks of Intel® Corporation or its subsidiaries in the United States and other countries.

Embedded Vision
This content is part of the Embedded Vision curated collection. To learn more about Embedded Vision,
click here
.