Experienced Robotics Engineer Joins Motion Controls Robotics, Inc as North Central Regional Sales Manager
Fremont, OH - Motion Controls Robotics, Inc (MCRI) is excited to announce that Earl R. Wohlrab Jr. will be joining the sales team as a Regional Sales Manager. He will cover and provide local support to customer in the North Central United States. Wohlrab comes to MCRI from Intelligrated, Inc. via Arrowhead Systems, Inc. with over 20 years of experience in robotic system design and engineering.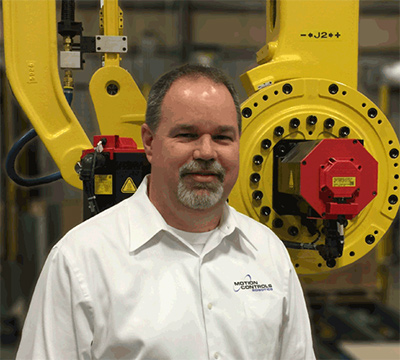 In his career,
Wohlrab has sought to gain varied experience working as a robot integrator. His knowledge of industrial robots and material handling system design and implementation ranges from development and training to customer service.
With Wohlrab's experience as a robot integrator, he will be able to explore customer concerns and help to develop robotic applications that solve process challenges.
Wohlrab also makes it a priority to stay up-to-date in the robotics industry, participating in such groups as the Robotic Industries Association (RIA).
"We are very excited to have Earl join the sales team. He will play an integral role in our continued delivery of successful robotic systems and identifying new markets and industry products," explains James Skelding, Director of Sales & Marketing. "His experience and reputation will certainly improve our ever-expanding coverage of North America."
Wohlrab graduated from University of South Florida, with a Master's Degree in Engineering Management.
About Motion Controls Robotics
Founded in 1995 and celebrating over 20 years of continuous growth, Motion Controls Robotics is a leading provider of automation solutions to manufacturing industries. The company provides full service robotic solutions from concept to installation and service/support that keep manufacturers competitive. Motion Controls Robotics creates solutions for Fortune 500 and small to medium-sized companies in the food & beverage, plastics, building & construction materials, converting, manufacturing and board & sheet goods industries. They also automate small production shops and machine job shops. Motion Controls Robotics provides automation solutions to manufacturers for a variety of applications including material handling (case packing, palletizing and machine tending), and vision-guided systems. Motion Controls Robotics is an exclusive Level 4 Certified Servicing Integrator for FANUC Robotics, and a SmartCart Automatic Guided Cart Value Added Reseller (VAR) for Daifuku Webb. Motion Controls Robotics' northwest Ohio headquarters is located at 1500 Walter Avenue, Fremont, Ohio.