Expanded Genie TS Camera Line
rong>Teledyne DALSA Expands Genie TS Camera Line

Teledyne DALSA, a Teledyne Technologies company and a global leader in machine vision technology, has expanded its Genie™ TS camera series with the addition of new 2M and 4M monochrome models that reach speeds up to 76 fps in HD format. These new models are suitable for a wide range of inspection applications.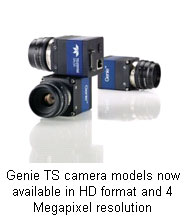 The new Genie TS models are based on the CMOSIS imaging sensors CMV2000 and CMV4000. The perfect blend of form and function, the Genie TS is engineered to meet the ever increasing speed and image clarity requirements of machine vision. All features are easily accessible with Teledyne DALSA's advanced software tools or GigE Vision compliant third party software.The Genie TS cameras are designed to perform in extreme environments in temperatures from -20°C up to 60°C.

"The Teledyne DALSA Genie series offers easy integration, reliable data transmission, and the greatest possible flexibility in a camera," stated Manny Romero, Genie Product Manager at Teledyne DALSA.

GigE Vision®
Like all Genie cameras, the GenieTS series is GigE Vision-compliant, based on the AIA (Automated Imaging Association) GigE Vision Standard. This new series of Genie cameras takes full advantage of Gigabit Ethernet technology, transmitting data over standard CAT-5e and CAT-6 cables to distances of up to 100m allowing for a greater distance between the camera and inspection system. Teledyne DALSA continues to lead the deployment of the GigE Vision standard in terms of adopting the technology into its product development efforts.

Software Advantage
The GenieTScameras are supported by Teledyne DALSA's Sapera Essential software and its Genie Framework package for fast and simple camera set-up - from initial set-up to grabbing images in minutes. Moreover, the Genie Framework employs Teledyne DALSA's advanced Trigger-to-Image Reliability engineering, significantly accelerating application development and deployment time by providing developers with a 360º view of the entire acquisition process.

Product Details
For more information on product specifications, visit the Genie TS product page or view the Genie TS video. For full resolution images, visit Teledyne DALSA's online media kit.