Expanded Display Options for In-Sight Vision Systems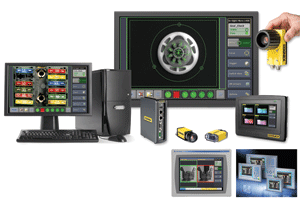 Cognex Corporation (NASDAQ: CGNX) announces a new option to deliver its VisionView® operator interface to third-party CE Panels. VisionView CE software can now be licensed and installed directly onto Rockwell and Siemens CE panels, allowing end users to use existing equipment and reduce monitor clutter. In addition to supporting VisionView CE software to run on Rockwell and Siemens CE panels, a new software release, VisionView 1.4, adds functionality to support filtered images, the ability to view the failed image next to the current image, additional touch screen drivers for the VisionView VGA model and Microsoft® Windows® 7 64-bit support.
"VisionView CE software now offers users seamless integration with factory floor HMIs by allowing them to run VisionView on their own Rockwell and Siemens CE panels," said Bhaskar Banerjee, Business Unit Manager for Vision Systems. "The addition of the VisionView CE software model to the product line, as well as the additional software upgrades, makes VisionView the most powerful tool for monitoring and controlling vision applications directly from the factory floor."
Four Hardware Platforms
VisionView users now have a choice of four different platforms:
VisionView CE. The new VisionView CE software option offers all the standard VisionView features and enables operators to view their applications using their existing Rockwell or Siemens CE panels. VisionView CE offers higher performance and ability to support larger screens while reducing additional monitor clutter.
VisionView PC. The VisionView PC software has all the standard VisionView features while providing the flexibility of using your own choice of PC and monitor.
VisionView VGA. VisionView VGA provides the flexibility by allowing "control room" viewing of images and results without being limited by the size of the display. The VisionView VGA adapter supports VGA displays of different resolutions, as well as touch screen displays.
VisionView 700. The VisionView 700 is a powerful, low-cost operator interface panel that provides password-protected user control to adjust vision tool parameters and regions of interest without requiring a PC on your factory floor.
New features in VisionView 1.4 include:
Software License for third-party CE Panels, such as Rockwell PanelViewPlus and Siemens MP-series CE Panels. End users can reduce monitor clutter by using existing panels instead of purchasing new monitors for their vision systems.
Last Failed Image View. Shows the current image and the last failed image side-by-side. End users can compare the current run-time image and the last image that failed within the same view.
Filtered Image View. Allows display of filtered images from the camera on the VisionView panel. End users can see the tools being applied on the actual filtered image that has been applied from the camera.
New Serial Touch Screen Drivers. Preinstalled to support various touch screen panels with VisionView VGA. In addition to the Mitsubishi GOT panels, VVVGA now supports various models of Advantech, Proface, ELO and 3M Microtouch panels.
The new VisionView CE software, and the new VisionView 1.4 software, is available now. For more information, or to download a free trial version of VisionView 1.4, visit http://www.cognex.com/visionview.
About Cognex
Cognex Corporation designs, develops, manufactures and markets machine vision and industrial ID systems, or devices that can "see." Cognex vision and ID systems are used around the world for a wide range of inspection, identification and guidance applications throughout the manufacturing and distribution process. Cognex is the world's leader in the machine vision and industrial ID industries, having shipped more than 500,000 systems, representing over $2.5 billion in cumulative revenue, since the company's founding in 1981. Headquartered in Natick, Massachusetts, USA, Cognex has regional offices and distributors located throughout North America, Europe, Asia, Japan and Latin America.