Exact Scan Vehicle Inspection System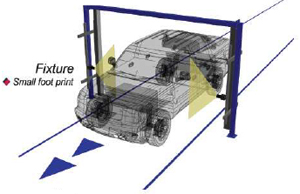 The USS Exact Scan™ has a resolution 9000 x 4000 and can check the entire body side of a vehicle "as it moves" down the assembly line. The inspections include part identification, emblems, handles, wheels, lights, body cladding, measurement, and much more.
As for traceability, Exact Scan™ receives VIN information, vehicle content data, and vehicle ID number from plant broadcasts or bar code scans, and stores all of that information along with an image of the part for every inspection.
If there is a failure, the system will log it with the VIN number, and store information on how the part was supposed to be built, and include an image from the inspection. When the vehicle goes by the system, (the system) will alert the repair bay of failure, page the appropriate engineer, and report exactly what failed.
The system can be applied to a moving line (stationary sensors), or on a slide (stationary part).
The price point on this system is outstanding, starting at $39-45 thousand, where a similar system would start at $225,000. The system includes: all inspection hardware, Exact Scan™ software, programming, fixturing, and a high-powered computer that has a lot of storage capability.