EVT EyeMIO Extended Multifunction-PLC-IO-Module
EVT

presents the extended multifunction-module. The EyeMIO Extended is a PLC-IO-Module for the usage in industrial environments.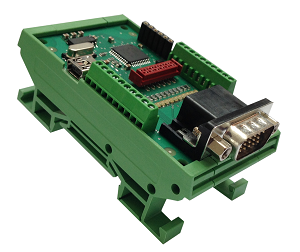 Together with the machine vision systems by EVT Eye Vision Technology the EyeMIO takes over the control of the peripheral devices and therefore forms the physical interface between the image processing system and the production facilities. The EyeMIO Extended has a number of standardized interfaces available such as e.g. a USB 2.0 and a serial RS232 interface. Additionally the new extended version features 12 digital inputs and 12 digital outputs, each with indicator LED and among them 4 I/Os for high power illumination.
As additional communication between the various different circuit parts EyeMIO offers a 2-wire serial interface (I²C) and also a 1-wire interface.

The module has as a special feature a built in temperature sensor, which is especially useful in industrial environments. In addition the EyeMIO has 4 status LEDs.
The EyeMIO is available in various variations. For one, for free integration. But also with a slot bracket for fitting it into a PC slot. Also it is possible to fit the module in a body onto a cap rail.