Euresys' ECCO+ Exceeds the Cable Length Spec of Camera Link by Two-Fold!
v>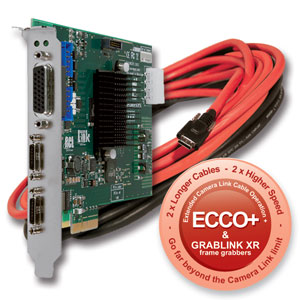 The Grablink Full XR – where XR stands for eXtended Reach – is the Euresys Camera Link frame grabber featuring ECCO+. In many cases, ECCO+ allows the Grablink Full XR users to double the maximum length of the Camera Link cables used, thus making the use of a repeater unnecessary. In addition, the Grablink Full XR supports Camera Link 2.0 configurations, from the 80-bit to the Base configurations. This frame grabber is compliant with PoCL SafePower. This high-end acquisition board offers an outstanding acquisition solution for high-speed and high-resolution area-scan and line-scan applications such as printing, web and Flat Panel Display inspection, 3D inspection and manufacturing inspection for fast production lines.
Company Background
Euresys, a leading manufacturer of image and video acquisition components and image processing software, has more than 25 years of imaging expertise in the machine vision, healthcare, ITS and video surveillance markets. With an extensive worldwide customer base and patented technology, Euresys' expertise includes analog and digital video acquisition, image compression, camera control, image analysis, processing and transport.

Euresys products include:

A wide range of high-performance frame grabbers for CoaXPress, Camera Link, and non-standard analog image acquisition. These boards support image acquisition from the fastest and highest resolution cameras available in the market.
SD (standard definition) and HD (high definition) video capture cards used in healthcare, traffic control and high-end PC-based video surveillance applications.
Image processing and analysis software tools for defect detection, sub-pixel measurement, alignment, color analysis, optical character recognition/verification, and 1D/2D code reading/verification applications.
Innovative low-latency standalone IP video encoders for video streaming applications from multiple HD-SDI cameras.
Headquartered in Belgium, Euresys has sales and support offices in Belgium, the US (California) and Singapore, as well as an extensive network of distributors throughout the world. Euresys is renowned for providing high quality solutions and premium support to OEMs and system integrators worldwide.

Company Contact
Virginie André
Tel: +32-4-367-72-88