ETX-BT Computer-on-module
rong>New ETX-BT computer-on-module adopts latest Intel® Atom® processor while supporting all legacy interfaces, giving existing systems a performance boost and new lease on life for seven more years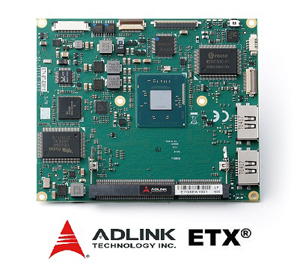 ADLINK Technology, Inc., a global provider of cloud-based services, intelligent gateways, and embedded building blocks, today announced a new ETX computer-on-module, which uses the latest Intel® Atom™ Processor E3800 SOC Series with performance scalability from single core at 1.4GHz (Intel® Atom™ E3815) to quad core at 1.9GHz (Intel® Atom™ E3845), matched with a single SODIMM socket for up to 4 GB non-ECC 1333/1066 MHz DDR3L memory. The ETX-BT supports all the legacy I/O of previous ETX modules on the market and will extend the service life of expiring ETX-based systems for another seven years, bringing a new level of performance and allowing access to the latest cloud services.

"ETX is a 16-year-old form factor widely used in industrial automation, transportation and medical appliances, with many of them now nearing an end-of-life status. Most embedded system providers in the market are not developing new ETX products anymore. However, keeping our customers' interests in mind, ADLINK Technology strives to maintain its ETX product offering so that our customers using ETX-based systems can easily upgrade their systems to a higher performance level at a low cost and maximum return-on-investment," said Henk van Bremen, director of ADLINK's Module Computing Product Segment. "The ETX-BT is the last ETX module you'll ever need."

As a drop-in replacement for older ETX modules, ETX-BT supports all legacy interfaces of the ETX form factor, such as dual PATA IDE with Master/Slave, ISA-bus, PCI-bus, serial/parallel ports, Intel-based 10/100Mbps LAN, analog VGA and LVDS. However, it also provides access to new interfaces without the need to modify the carrier board by using low-profile flat cable connectors for Gigabit Ethernet, DDI graphics and XDP CPU debug, as well as onboard connectors for SATA ports and fan power with SmartFan control.

ETX-BT is also equipped with a SEMA board controller, the heart of ADLINK's Smart Embedded Management Agent (SEMA) remote monitoring, control and cloud technology, which provides access to voltage/current monitoring, power sequence debug support, AT/ATX mode control, logistics, forensic information and watchdog timer. SEMA minimizes the need for physical visits by engineers or technicians to perform repairs and maintenance jobs, thus reducing related expenditures.

Current users of ETX-based systems who are seeking to prolong the service life of their equipment do not have to modify their carrier board to upgrade their systems. They can simply replace their outdated modules with the ADLINK ETX-BT to gain improved computational power and access to the latest features. With the ETX-BT, customers can revamp their systems with minimum cost and extend product life by another seven years, well into 2021.

For more information, please visit: http://www.adlinktech.com/Computer-on-Module/ETX

About ADLINK
ADLINK Technology is enabling the Internet of Things (IoT) with innovative embedded computing solutions for edge devices, intelligent gateways and cloud services. ADLINK's products are application-ready for industrial automation, communications, medical, defense, transportation, and infotainment industries. Our product range includes motherboards, blades, chassis, modules, and systems based on industry standard form factors, as well as an extensive line of test & measurement products and smart touch computers, displays and handhelds that support the global transition to always connected systems. Many products are Extreme Rugged™, supporting extended temperature ranges, shock and vibration.

ADLINK is a Premier Member of the Intel® Internet of Things Solutions Alliance and is active in several standards organizations, including PCI Industrial Computer Manufacturers Group (PICMG), PXI Systems Alliance (PXISA), and Standardization Group for Embedded Technologies (SGeT).

ADLINK is a global company with headquarters in Taiwan and manufacturing in Taiwan and China; R&D and integration in Taiwan, China, the US, and Germany; and an extensive network of worldwide sales and support offices. ADLINK is ISO-9001, ISO-14001, ISO-13485 and TL9000 certified and is publicly traded on the TAIEX Taiwan Stock Exchange (stock code: 6166).