Esys Automation New Building Groundbreaking
AUBURN HILLS, Mich. – Esys Automation began a new chapter in its history this week by breaking ground on a new building located on Brown Rd., just east of Joslyn Rd in Auburn Hills, MI. A groundbreaking ceremony was held, which included a majority of the Esys team and representatives from the developer JB Donaldson, the State of Michigan, Oakland County and the City of Auburn Hills.
"We are very pleased to be able to expand and stay in our home city of Auburn Hills," said Dave Valentine, president of Esys Automation. "A very special thanks to the City of Auburn Hills, Oakland County and the State of Michigan for supporting our efforts and providing significant incentives to remain here."
The new 125,000 square-foot facility will allow Esys to consolidate its current two Auburn Hills locations into one space. The new facility will have 40,000 square-feet of office space and 85,000 square-feet of shop space, allowing Esys to continue its significant growth. Construction is set to complete late fall 2018.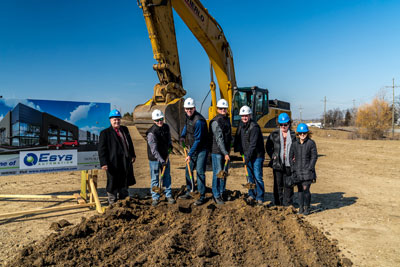 From the left: Ron Moniz, Auburn Hills Council Member, Esys Owners (Scott Claxton, Kevin Gaines, Dave Valentine and Chris Marcus), Cindy McMahon, Oakland County Sr. Business Development Representative, and Alyssa Tracey, Business Development Manager at Michigan Economic Development Corporation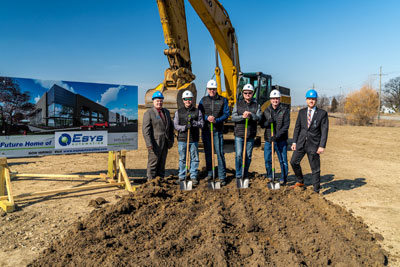 From the left: Ron Moniz, Auburn Hills Council Member, Esys Owners (Scott Claxton, Kevin Gaines, Dave Valentine and Chris Marcus), and Thomas Tanghe, Auburn Hills City Manager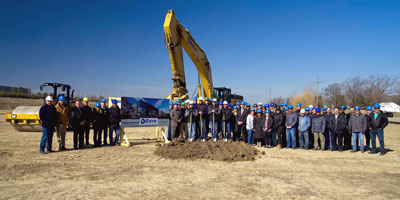 Many of the Esys team members in attendance for the new building Groundbreaking Event
About Esys Automation
Esys Automation is a leading full-service automation solutions provider to the automotive industry. Esys provides automation design, simulation, and machine building, including advanced robotic systems and industry-specific software solutions. Esys specializes in vehicle assembly applications in areas such as press, powertrain, plastics, body assembly, paint, sealer, final assembly, and tire & wheel. Headquartered in Auburn Hills, Michigan, Esys Automation operates globally. Learn more about Esys Automation at esysautomation.com.

Company Contact
Oana Fenesanu, Marketing Coordinator
Tel: 248-754-1900