Epson VT6L All-in-One 6-Axis Robot Wins "Product of the Year" Award at the Assembly Show
C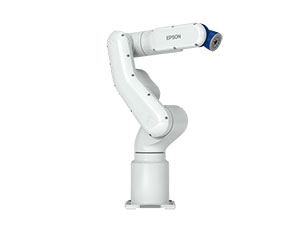 ARSON, Calif. – Epson Robots, the #1 SCARA robot manufacturer in the world, today announced its VT6L All-in-One 6-axis robot won "Product of the Year" award in the Robotics category at the Assembly Show, a yearly event dedicated to assembly technology held in, Rosemont, Ill. Twenty finalists in the "Product of the Year" program displayed their latest cutting-edge technology and equipment. Attendees voted during the event and during the Morning Mingle Breakfast on the show floor.
Epson's VT6L All-in-One 6-Axis robot is a new entry level offering to the award-winning 6-Axis line up. With a reach up to 900 mm and a payload up to 6 kg, this compact, easy to install robot includes next generation technology, is ideal for a wide range of simple applications and is offered at the ultra-low cost of $13,900. It is now also available in Cleanroom (ISO 4) and Protected (IP67) installation environments.
John Sprovieri, Editor-in-Chief, Assembly Magazine, evaluated the new products and selected Epson's VT6L robot as one of the nominees for the Robotics category. "We're pleased to recognize this innovative robot from Epson and appreciate the show attendees who took the time to vote for their favorite robotics solution," said Sprovieri. "Congratulations to Epson on a well-deserved win!"
"We strive to offer the most innovative and highest quality robotics solutions and are delighted to have won this award," said Gregg Brunnick, director of product management for Epson Robots. "Our VT6L was created based on the highly successful T3-series All-in-One design with built-in controller. This next generation technology provides an easy-to-use 6-axis solution at an industry disruptive price point."
The VT6L is ideal for simple applications such as load/unload, pick-and-place, dispensing and assembly. The All-in-One design with built-in controller saves on valuable factory space while its SlimLine structure featuring a compact wrist pitch enables access to hard-to-reach areas in confined spaces. This groundbreaking innovation opens a world of application opportunities due to its affordable price and ease of use. Many applications that were too costly to implement with standard 6-Axis robots, will now be possible.
The "Product of the Year" award Winners" are recognized in Assembly Magazine's December 6, 2019 issue in the article: "What's New from the Assembly Show."
The ASSEMBLY Show is sponsored by ASSEMBLY (www.assemblymag.com), a monthly trade magazine read by 56,000 engineers and managers responsible for manufacturing and designing cars, computers, catheters, coffee makers, etc. ASSEMBLY covers the processes, technologies and strategies for joining discrete parts into finished products. The event is produced by BNP Media (www.bnpmedia.com), one of the country's leading business-to-business media companies serving professionals across 50+ industries.
About Epson Robots
Epson Robots is a global leader in PC controlled precision factory automation, with well over 85,000 units sold worldwide1 and a product line of hundreds of models of easy to use SCARA, Cartesian and 6-Axis robots based on a common PC based platform. Building on a 35-year heritage, Epson Robots today delivers robots for precision assembly and material handling applications in the aerospace, appliance, automotive, biotechnology, consumer product, electronics, food processing, medical device, pharmaceutical, plastics, semiconductor, and telecommunication industries.
About Epson
Epson is a global technology leader dedicated to becoming indispensable to society by connecting people, things and information with its original efficient, compact and precision technologies. The company is focused on driving innovations and exceeding customer expectations in inkjet, visual communications, wearables and robotics, and is underpinned by original microdevices. Epson is proud of its contributions to realizing a sustainable society and its ongoing efforts to realizing the United Nations' Sustainable Development Goals.
Led by the Japan-based Seiko Epson Corporation, the worldwide Epson Group generates annual sales of more than U.S. $10 billion.
Epson America, Inc., based in Long Beach, Calif., is Epson's regional headquarters for the U.S., Canada, and Latin America.