Epson Robots to Showcase Award-Winning Robotics Solutions for the Factory Automation Industry at ATX West
Carson, CA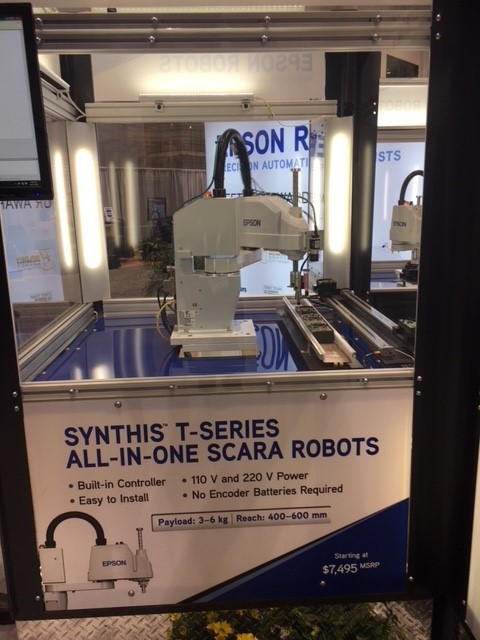 Who: Epson Robots will be showcasing its award-winning robots, including the 6-Axis- and SynthisTM T-Series All-in-One SCARA robots at the Automation Technology show, ATX West.
What: Epson Robots are designed for maximum efficiency and productivity for small parts assembly in industries ranging from automotive and medical development, to lab automation, consumer electronics, electronic components and industrial.
Showcase
SCARA Robots
Epson is the #1 SCARA robot manufacturer in the world. The Synthis T-Series All-in-One SCARA robots offer the perfect way to automate factories without wasting time or money on expensive, complex, slide-based solutions. The robots come with a built-in controller, a new technology feature that reduces space requirements and simplifies setup, and the powerful Epson RC+® development environment that is included with all Epson Robots. This innovative alternative installs in minutes and virtually eliminates any space-constraint issues. It is offered at an ultra low price, starting at $7,495.
The Synthis T6 All-in-One SCARA robot will be shown with Vision Guide demonstrating inspection as well as pick and place applications using vision guidance. The first in the T-series, the Synthis T3 All-in-One SCARA robot was awarded the Vision Systems Design 2018 Innovators Award.
6-Axis Robots
Epson's space-saving 6-Axis robots can reach in to confined workspaces from many angles with ultra smooth motion, making the C4-Series, C8-Series and N-Series some of the most flexible 6-Axis robots available in market today. Payloads range from 2kg to 8kg and reach from 450 to 1,400mm. The Epson 6-Axis SlimLine design saves on valuable factory floor space without compromising performance, speed or reach. The Flexion™ N2 6-Axis robot with the world's first folding arm design, was awarded the Thomas Edison 2018 Innovation Award.
The C4 6-Axis robot workcell will be shown using Epson's new Force Guide integrated solution with various application examples. Force Guide provides fast, tactile feedback to guide robots for high-precision parts placement. Powered by proprietary Epson Quartz Technology and driven by real-time servo system integration, it enables Epson robots to detect 6 axes of force with precision down to 0.1 N. Easy to configure and set up, Force Guide features a point-and-click interface with pre-configured solutions and built-in objects, reducing the development time for precision repeatability applications.
When: ATX West takes place from Feb. 5 to 7, 2019.
Where: Anaheim Convention Center, Anaheim Calif., Epson booth #4211
About Epson Robots
Epson Robots is a global leader in PC controlled precision factory automation, with an installed base of well over 85,000 robots worldwide and a product line of hundreds of models of easy to use SCARA, Cartesian and 6-Axis robots based on a common PC based platform. Building on a 35-year heritage, Epson Robots today delivers robots for precision assembly and material handling applications in the aerospace, appliance, automotive, biotechnology, consumer product, electronics, food processing, medical device, pharmaceutical, plastics, semiconductor, and telecommunication industries. For more information, visit www.epsonrobots.com
About Epson
Epson is a global technology leader dedicated to connecting people, things and information with its original efficient, compact and precision technologies. With a lineup that ranges from inkjet printers and digital printing systems to 3LCD projectors, watches and industrial robots, the company is focused on driving innovations and exceeding customer expectations in inkjet, visual communications, wearables and robotics.
Led by the Japan-based Seiko Epson Corporation, the Epson Group comprises more than 81,000 employees in 85 companies around the world, and is proud of its contributions to the communities in which it operates and its ongoing efforts to reduce environmental impacts.
Epson America, Inc., based in Long Beach, Calif., is Epson's regional headquarters for the U.S., Canada, and Latin America. To learn more about Epson, please visit: epson.com. You may also connect with Epson America on Facebook (facebook.com/Epson), Twitter (twitter.com/EpsonAmerica), YouTube (youtube.com/EpsonAmerica), and Instagram (instagram.com/EpsonAmerica).
# # #
Note: EPSON and Epson RC+ are registered trademarks and EPSON Exceed Your Vision is a registered logomark of Seiko Epson. Synthis and Flexion are trademarks of Epson America, Inc. All other product brand names are trademarks and/or registered trademarks of their respective companies. Epson disclaims any and all rights in these marks.