Epson Robots Launches High Performance Force Guide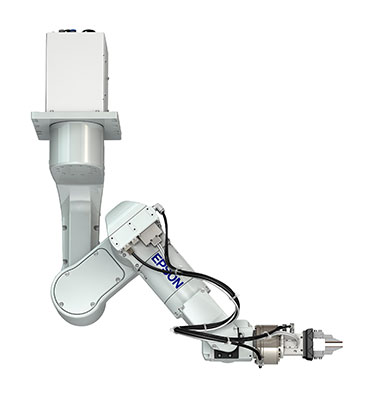 Intuitive High-Precision Robot Force Guidance Takes Robot Automation to Next Level
Chicago, Ill. - Today at PACK EXPO – Epson Robots, the #1 SCARA robot manufacturer in the world, announced the new high performance Force Guide integrated force guidance solution which takes robot automation to the next level with amazing precision and outstanding rigidity. Epson® Force Guide is a tightly integrated force control system that allows Epson Robots to sense and make precision moves using force feedback data. Powered by proprietary Epson Quartz Technology, it enables Epson robots to detect six axes of force with precision down to 0.1 N. Driven by real-time servo system integration, Force Guide delivers fast, tactile feedback to guide robots for high-precision parts placement.
Designed for easy configuration and set up, the Epson Force Guide integrated solution features a point-and-click interface with pre-configured solutions and built-in objects, reducing the development time for applications which require high precision. It is perfect for tasks such as part insertion, screw driving, grinding/polishing and more.
"Force Guide is a revolutionary force control system that is opening up possibilities for robot automation in areas that were not possible before," said Gregg Brunnick, director of product management for Epson Robots. "It enables robots to tackle applications with high precision or high performance motion guidance requirements making it a great fit for a wide range of high precision applications."
Key features
Powerful performance ? integrated force control system driven by proprietary Quartz Technology from Epson
Ultra precise ? detects force and adjusts motion with amazing precision ? down to 0.1 N
Superior rigidity ? durable sensor built to withstand excessive force
Fast robot/force guidance response ? internal sensor with real-time servo system integration
Point-and-click setup ? easy-to-use interface with graphical wizards, charts and more
Fast, easy implementation ? helps reduce the amount of coding with decision-based flowcharts and intelligent objects
Real-time monitoring and data logging of force feedback ? for quality control
Multi-axis force/torque sensor ? includes three linear and three rotational measurement axes
Easy set up and configuration ? fully integrated into the Epson RC+® development environment
Simplify common force guidance applications ? perfect for tasks such as screw driving, part insertion, grinding/polishing and more
About Epson Robots
Epson Robots is a global leader in PC controlled precision factory automation, with an installed base of well over 65,000 robots worldwide and a product line of hundreds of models of easy to use SCARA, Cartesian and 6-Axis robots based on a common PC based platform. Building on a 35+-year heritage, Epson Robots today delivers robots for precision assembly and material handling applications in the aerospace, appliance, automotive, biotechnology, consumer product, electronics, food processing, medical device, pharmaceutical, plastics, semiconductor, and telecommunication industries. For more information, visit www.epsonrobots.com
About Epson
Epson is a global technology leader dedicated to connecting people, things and information with its original efficient, compact and precision technologies. With a lineup that ranges from inkjet printers and digital printing systems to 3LCD projectors, watches and industrial robots, the company is focused on driving innovations and exceeding customer expectations in inkjet, visual communications, wearables and robotics.

Led by the Japan-based Seiko Epson Corporation, the Epson Group comprises more than 76,000 employees in 87 companies around the world, and is proud of its contributions to the communities in which it operates and its ongoing efforts to reduce environmental impacts.
Epson America, Inc., based in Long Beach, Calif., is Epson's regional headquarters for the U.S., Canada, and Latin America. To learn more about Epson, please visit: epson.com. You may also connect with Epson America on Facebook (facebook.com/Epson), Twitter (twitter.com/EpsonAmerica), YouTube (youtube.com/EpsonAmerica), and Instagram (instagram.com/EpsonAmerica).