EPSON Robots Announces New Version of EPSON RC+ 5.0
rong> – Now includes 3D Simulation

Carson, CA – EPSON Robots, a global leader in advanced robotic technology, introduces version 5.4 of EPSON RC+ 5.0, a powerful development environment now featuring the EPSON RC+ Simulator. Visit epsonrobots.com for your FREE copy of EPSON RC+ 5.4 trial DVD.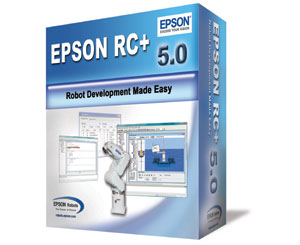 "EPSON RC+ 5.0 development environment leads the industry in ease of use and features powerful tools for robot development. The latest version of the software now provides simulation and offline programming features that enable customers to create, design and run their SPEL+ programs at their desks" stated Michael Ferrara, Director of EPSON Robots. "With EPSON RC+ version 5.4 users can begin developing and programming a functional robotic system prior to setting up equipment which is a great saving of valuable time."

The new EPSON RC+ Simulator is a powerful addition to EPSON RC+ 5.0. Not only can users now create complete EPSON RC+ projects at their desks, they can also add obstructions so developers can identify potential collision points. Users can also save simulations of their applications as AVI movie files. This is extremely useful for showing robot motions to others. EPSON RC+ 5.0 works with standard PC's running Windows XP, Vista or Windows 7.

The high performance Micro PowerDrive RC180 Controller comes standard with EPSON RC+ 5.0 which provides the ultimate experience in ease of use, compact size, and reliability. Why choose a low performance solution when you can have a high performance development environment with Micro PowerDrive Controller?

EPSON Robots is the global leader in PC controlled precision factory automation, with an installed base of over 22,000 robots and a product line of hundreds of models of easy to use SCARA, Cartesian and 6 axis robots based on a common PC platform. Building on a 27 year heritage, EPSON Robots today delivers robots for precision assembly and material handling applications in the aerospace, appliance, automotive, biotechnology, consumer product, electronics, food processing, medical device, pharmaceutical, plastics, semiconductor, and telecommunication industries.