EPSON G3 SCARA Robots - New Curved Arm Option
EPSON G3 SCARA Robots lead the industry with best in class cycle time, precision and motion range. Simply put, we are the low cost, high performance leader for small SCARA robots. With over 30 new models available in arm lengths of 250, 300 and 350mm, EPSON G3 robots are able to meet the demanding space requirements of factories with limited workspace areas.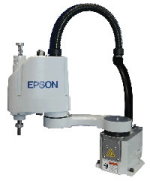 Unique to the G3 is our new curved arm option which maximizes work envelope usage. Our 350mm curved arm is able to match the motion range of larger 400mm class SCARA robots, thus saving our customer's valuable floor space and equipment cost.