EOS-4000 Dual Channel Camera Link Embedded Vision System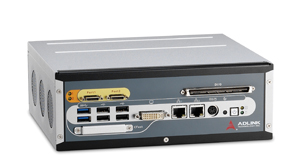 ADLINK Technology, Inc., a trusted provider of embedded computing products for machine vision, announces the release of its new EOS-4000, the industry's first compact Camera Link® embedded vision system to feature a powerful 3rd generation Intel® Core™ i7/i5 quad core processor, two independent Power over Camera Link (PoCL) ports, and rich I/O capability. The 3rd generation Intel quad-core processor delivers maximum computing power, and Camera Link connectivity provides image transmission with no CPU loading, making—along with Direct Memory Access (DMA)—the EOS-4000 ideal for speedy and accurate high-resolution performance supporting industrial automation and medical imaging environments.
The EOS-4000 streams raw image data over dedicated point-to-point link topology, with no network latency or protocol overhead, and implements DMA solutions, rearranging data for efficiency. Transmission of image data from cameras to the system memory is executed without utilizing any CPU resources, and the EOS-4000 supports 64-bit memory addressing and RAID technology (dual SATA interface), benefiting vision applications with large address space.
Rich I/O capability includes one encoder input, two trigger inputs, four RS-232/422/485 ports, two USB 3.0 ports, dual storage (two SATA interface and one CFAST slot), an internal USB port, and 1 kbit programmable EEPROM. Easy to integrate and deploy, the EOS-4000 also provides management of copy protection and software license authentication for system development, further accelerating time-to-market.
The EOS-4000 additionally offers 64 optocoupler isolated digital I/Os and supports software configurable digital filter function (0.25 μs-131 ms) securing recognition of input signals carrying noise or chatter – a requirement for demanding industrial environments.
With optional Microsoft® Embedded Standard 7, File-Based Write Filter (FBWF), and thread-safe I/O function, the EOS-4000 provides a stable, secure, high performance software operating environment. The included CamCreator® utility enables setup, configuration, testing, and system debugging with no software programming requirement. Combining increased computing power with multi-channel connectivity and a ready-to-deploy application platform, the EOS-4000 delivers embedded vision ideally suited for high-speed and large image machine vision applications.
Learn more about ADLINK vision Products at www.adlinktech.com/Vision/index.php

About ADLINK Technology
ADLINK Technology provides a wide range of embedded computing products and services to the test & measurement, automation & process control, gaming, communications, medical, network security, and transportation industries. ADLINK products include PCI Express-based data acquisition and I/O; vision and motion control; and AdvancedTCA, CompactPCI, and computer-on-modules (COMs) for industrial computing. With the acquisition of Ampro Computers, Inc. and LiPPERT Embedded Computers GmbH, ADLINK also provides a wide range of rugged by design Extreme Rugged™ and Rugged product lines including single board computers, COMs and systems.

ADLINK strives to minimize the total cost of ownership (TCO) of its customers by providing customization and system integration services, maintaining low manufacturing costs, and extending the lifecycle of its products. ADLINK is a worldwide company with headquarters and manufacturing in Taiwan; R&D and integration in Taiwan, China, the US, and Germany; and an extensive network of worldwide sales and support offices.

ADLINK is ISO-9001, ISO-14001, ISO-13485 and TL9000 certified, is an Associate Member of the Intel® Intelligent Systems Alliance, an Executive Member of PICMG, a Sponsor Member of the PXI Systems Alliance, an Executive Member of PC/104 Consortium, a Strategic Member of the AXIe Consortium, and a member of VMEbus International Trade Association (VITA). ADLINK is a publicly traded company listed on the TAIEX Taiwan Stock Exchange (stock code: 6166).
Embedded Vision
This content is part of the Embedded Vision curated collection. To learn more about Embedded Vision,
click here
.