EOS-1200 Gigabit PoE Embedded Vision System
rong>ADLINK Launches Next Generation Powerful Embedded Vision System,

Equipped with the 2nd generation Intel® Core™ i7 quad-core CPU, supporting IEEE 1588 (PTP) for multi-camera synchronization

San Jose, CA - ADLINK Technology, Inc., a leading provider of machine vision platforms and boards, announced the release of the EOS-1200, the industry's first powerful Gigabit PoE embedded vision system to implement the 2nd Generation Intel® Core™ i7 quad core processor, providing four independent gigabit PoE (power over Ethernet) ports with data transfer rates up to 4.0 Gb/s. The EOS-1200 further supports IEEE 1588 precise time protocol, enabling synchronization with multi-camera acquisition. With superior computing power, multi-channel support, compact size, lower unit cost, and maximum flexibility, the EOS-1200 is ideally suited to multi-camera imaging applications such as factory automation and food and packaging inspection.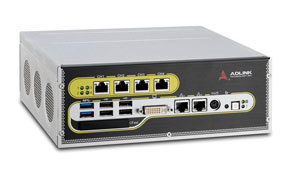 The EOS-1200 supports IEEE 1588 PTP technology, providing a software trigger-mode that empowers multi-camera synchronized captures. Combining IEEE 1588 and PoE support to allow a single Ethernet cable to deliver power supply, data transfer, and data synchronization, the EOS-1200 dramatically reduces cabling requirements compared to conventional solutions, further decreasing maintenance burdens and total cost of ownership.

"The GigE Vision standard has been widely adopted as mainstream technology in the machine vision industry. The EOS-1200 is fully compatible with GigE Vision cameras and GigE Vision analysis software, meaning that customers benefit significantly by its time-to-market and ease-of-deployment advantages, with no compatibility concerns," said Neil Chen, Product Manager of digital imaging at ADLINK. "Featuring the top-of-the-line 2nd generation Intel® Core™ i7 quad-core CPU, five-year long-life cycle support, and equipped with two USB 3.0 ports, the EOS-1200 is second to none in the industry."

In addition, the EOS-1200 provides smart PoE function, the application programming interface (API) allowing users to program power status easily, especially when cameras are idle, impressively boosting energy efficiency. The EOS-1200 also provides auto-detection to ensure compatibility with both PoE and conventional non-PoE devices.

The EOS-1200 features rich I/O capability, including four serial ports, two USB 3.0 ports, 32 PNP/NPN isolated digital I/Os and dual storage (two SATA interface, and one CFAST slot), an internal USB port, and 1 kbit programmable EEPROM, all making the EOS-1200 simple to integrate and deploy, and providing management with copy protection and software license authentication for system development, further accelerating time-to-market. Driver support is provided for Windows 7/XP and Embedded standard 7, in both 32-bit and 64-bit versions.

About ADLINK Technology

ADLINK Technology provides a wide range of embedded computing products and services to the test & measurement, automation & process control, gaming, communications, medical, network security, and transportation industries. ADLINK products include PCI Express®-based data acquisition and I/O; vision and motion control; and AdvancedTCA, CompactPCI, and Computer-on-Modules (COMs) for industrial computing. With the acquisition of Ampro Computers, Inc., ADLINK also provides a wide range of Extreme Rugged and Rugged Single Board Computers, Computer-on-Modules and Systems under the brand name Ampro by ADLINK. ADLINK strives to minimize the total cost of ownership (TCO) of its customers by providing customization and system integration services, maintaining low manufacturing costs, and extending the lifecycle of its products. ADLINK is a global company with headquarters and manufacturing in Taiwan; R&D and integration in Taiwan, China, and the US; and an extensive network of worldwide sales and support offices.

ADLINK is ISO-9001, ISO-14001, ISO-13485, and TL9000 certified, is an Associate Member of the Intel® Embedded Alliance, an Executive Member of PICMG, a Sponsor Member of the PXI Systems Alliance, and a Member of the AXIe Consortium. ADLINK is a publicly traded company listed on the TAIEX Taiwan Stock Exchange (stock code: 6166).

Media Contact:
Monica Lanctot
N. America Marketing Department
ADLINK Technology, Inc.
Phone: +408-360-4337
Embedded Vision
This content is part of the Embedded Vision curated collection. To learn more about Embedded Vision,
click here
.