Energy Efficiency in Motion - Visual Proof for Energy Efficiency in Gearboxes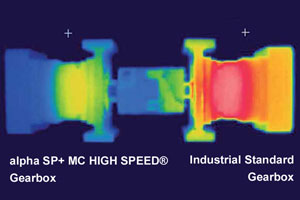 Energy efficiency has become a popular buzz term for today's green technology focus. However, the real proof of what energy efficiency is for mechanical systems needs further explanation. To start from the basics: how do you know a product is efficient and what does it actually mean to an OEM?
Since WITTENSTEIN developed the alpha gearbox in 1983, the product has continued to be improved in response to customer feedback. The SP HIGH SPEED® was designed to respond to OEMs need for increased throughput for applications. The SP+ was released in 2005 with improved design and higher technical specifications. The SP+ HIGH SPEED® Low Friction (L-version) was launched in late 2009 fully optimized to remain cool even during continuous-duty applications.
This concept of efficiency in gearboxes can be illustrated directly using thermal imaging. The image below shows a comparison between the alpha SP+ HIGH SPEED® (left) and a standard industrial gearbox (right). The product on the right becomes hot, while the alpha SP+ HIGH SPEED® remains cool. In absolute values, this means approximately 40° Celsius (104° Fahrenheit) with the alpha gearbox and approximately 80° Celsius (176° Fahrenheit) for the conventional product. The temperature difference means less release of heat and cooler conditions for a machine.
More information on the alpha SP+ HIGH SPEED® Low Friction (available in sizes 100, 140, 180) can be found on the relevant product pages at www.wittenstein-us.com.
Not only is WITTENSTEIN working to improve efficiency through heat reduction of mechanical products, but also dedicating research and development for creating efficiency in the coupling factor of mechatronic products (TPM, Ternary) and providing design efficiencies in servo system solutions.
WITTENSTEIN is committed to being a world-class partner for customers of its intelligent mechatronic drive technology, servo systems and mechanical components. By using the power of science, innovation, and forward thinking technology, our goal is to be the leader in motion with every day offering new opportunities for WITTENSTEIN to work with customers to create solutions for the future of motion.