Emerging Robot Applications a Key Focus of International Robots & Vision Show and Conference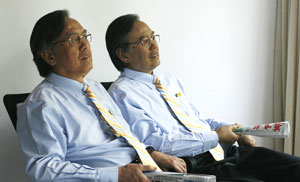 Applications of robots outside of the factory will be a key focus of the International Robots & Vision Show and Conference this year.
On the show floor, the Emerging Robotics Pavilion will be the hub of activity for people interested in non-industrial robotic developments. Robots for security, counter-terrorism, nuclear decommissioning, and more will be demonstrated.
Debuting in his first show outside of China is "Zou Ren Ti", the most human-like robot at the expo. With body and face covered with a skin-like material, the life-sized robot looks exactly like the identical twin of its creator, Zou Ren Ti, founder of Xi'an Superman Sculpture Research Council, and is able to nod, blink, talk, and gesture.
High school students from the successful FIRST robotics program will demonstrate their robotics projects and answer questions. These "robotics engineers of tomorrow" will add a fascinating element to the show.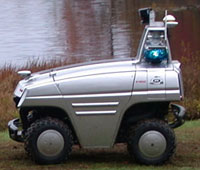 On Monday, June 11, William "Red" Whittaker of Carnegie Mellon University will give a keynote address on "Robots at Work." He has an extensive record of successful developments of robots for craft, labor and hazardous duty. Examples include robots in field environments such as mines, work sites and natural terrain. Dr. Whittaker's portfolio includes the development of computer architectures for controlling mobile robots; modeling and planning for non-repetitive tasks; complex problems of objective sensing in random and dynamic environments; and integration of complete field robot systems.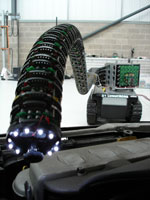 In the conference, there are several illuminating sessions for people who want to understand more about how robots will touch their lives in the future. On Tuesday, June 12, "The Latest Advances in Service Robots" will be explored. New technology developments in mobility, machine vision, and robotics hardware for service applications will be featured. In the afternoon, Medical Robotics will be examined. Applications for robots in surgery and battlefield medical treatment will be featured.
Experts from around the world will participate in a panel discussion on Wednesday, June 13 from 3-5 p.m. on "The Future of Service Robots." This will be a fascinating look at what's going on in Europe, Korea, and Japan, as well as in developing android robots that mimic human characteristics.