Embedding safety I/Os in ABB robots enhances man-machine collaboration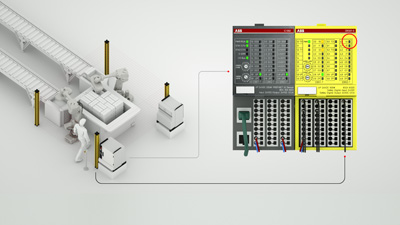 Safe man-machine collaboration attainable using safety I/Os that prevents unnecessary disruption to production
ABB is embedding extended safety I/Os within its series of robot controllers to improve the flexibility, safety and reliability of collaboration between robots and people. The shift to low volume, high mix production in shorter cycles means that people need to work more frequently in closer proximity to robots – changing materials and programs, and inspecting new processes. This makes collaboration an important tool for maintaining productivity as well as safety.
A light curtain, laser scanner, safety mat, E-stop and acknowledge button, for example, are connected to ABB's safety module which is integral to the ABB robot controller. Should a human enter the robot's cell to undertake maintenance, the safely-limited speed of the robot can be triggered, if permitted, as opposed to a safe stop. The robot moves very slowly and within the pre-defined safe work zone using SafeMove2; ABB's latest generation safety certified robot monitoring software. Once the human leaves the cell, the robot can resume its faster operational speed with or without acknowledgement, depending on the used safety sensors and application safety requirements.
Material handling applications, such as palletizing, are typical of the applications that are set to benefit from this approach.
The solution increases machine uptime, while improving productivity. A single safety I/O channel can be individually reintegrated, which provides higher machine productivity and availability.
As the safety I/Os are controlled by the safety module inside the robot controller, there is no need for third party stand-alone safety PLCs to be used. This saves costs as the combination of I/O and robot controller frees up space that would normally be needed for a separate cabinet. It also reduces the time associated with the set-up and operation of robotic production cells. This standardized solution leads to reduced spares, less wiring and lower operational costs as well as easy engineering through common diagnostics. Space saving is achieved due to more flexible use of SafeMove2 functions in combination with extended safety I/Os. Each safety I/O channel LED not only indicates the process state but also the fault state, which saves operational costs and simplifies maintenance work. Extreme condition (-XC) modules are available for high shock, vibration and temperature requirements.
All PROFIsafe® addresses, which can be input through a rotary switch on the front panel, are visible by directly looking at the front cover of the module. This facility reduces maintenance efforts as all pre-set PROFIsafe® addresses are clearly visible, thereby removing the need to disassemble safety I/Os or to use engineering tools to access the address values.
Furthermore, shorter commissioning and maintenance time is achieved through the ability to wire safety I/O terminal units even if safety I/O modules are not yet available or procured.
About ABB
(ABBN: SIX Swiss Ex) is a pioneering technology leader in electrification products, robotics and motion, industrial automation and power grids, serving customers in utilities, industry and transport & infrastructure globally. Continuing more than a 125-year history of innovation, ABB today is writing the future of industrial digitalization and driving the Energy and Fourth Industrial Revolutions. ABB operates in more than 100 countries with about 136,000 employees.
Company Contact:
Yauheni Veryha
Tel: +49 6221 701 1393