Embedded vision: MVTec launches HALCON machine vision software ready-to-go for Arm-based platforms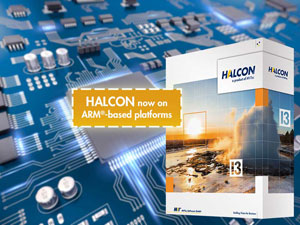 Munich – With the new HALCON 13.0.1 release, MVTec Software GmbH, the leading provider of innovative machine vision technologies, now makes its machine vision software readily available for Arm®-based platforms running the Linux operating system. This version provides a straightforward way to use HALCON's powerful functions on the widely distributed Arm processing technology. The ability to easily integrate HALCON software into Arm-based computing platforms significantly expands the range of devices on which customers can deploy their machine vision applications, and opens up new opportunities and use cases for solution providers.
The new HALCON release also offers a number of improved features including better grading of data-codes and optimizations for developers using the Visual Studio extension.
Many years of experience with embedded vision
MVTec has many years of experience in porting HALCON on a customized basis to embedded platforms such as Android, BeagleBoard-xM, and DragonBoard, as well as other embedded systems. This provides companies with the ability to run an extensive machine vision library on compact and robust hardware devices such as smart cameras and mobile vision sensors. Customers can develop their machine vision applications on a standard platform – a PC, for example –, then run the application on an embedded system, and thereby employ an extensive machine vision library.
HALCON 13.0.1 however supports Arm-based platforms as a standard, without the need for customized porting. The system also includes standard image acquisition interfaces such as GenICam and GigE Vision.
The new HALCON version was tested on a number of hardware platforms, including Raspberry Pi 3B, NVIDIA Tegra TK1, and Xilinx Zedboard. Moving forward, every new maintenance and major HALCON release will be readily available for use on Arm-based platforms. HALCON 13.0.1 contains various new and enhanced features. Thus, developers in the Visual Studio environment benefit, for example, from the improved and accelerated visualization of graphic objects. The new release also supports VB .NET.
"Arm is a widely distributed and popular architecture in the area of embedded systems," states Johannes Hiltner, Product Manager HALCON at MVTec. "Now that HALCON is available to run on Arm-based platforms by default, customers can seamlessly use the accustomed robust functions of their standard machine vision software in an extremely diverse landscape of embedded systems."
Addressing the exact needs of the embedded market
Dr. Olaf Munkelt, Managing Director of MVTec Software GmbH, adds: "With HALCON 13.0.1, we address the needs of the rapidly growing embedded vision market. Driven by the emergence and growth of the Internet of Things, sensors are becoming smarter and smaller, even in the non-industrial environment. Many of these sensors and systems are using Arm processors. By addressing this trend in the new HALCON version, we are enabling customers to place their image processing algorithms on a vastly wider range of devices with little effort."
Arm is a registered trademark of Arm Limited (or its subsidiaries) in the EU and/or elsewhere. All rights reserved.
Embedded Vision
This content is part of the Embedded Vision curated collection. To learn more about Embedded Vision,
click here
.