Elmo to Showcase Comprehensive Motion Control Solution at RoboBusiness
Elmo to display its Network Controller, Application Software, and new and expanded products
For over 20 years Elmo has provided the robotics industry with comprehensive, powerful, precise, safe, and durable motion control solutions - a selection of which will be shown at the RoboBusiness Leadership Summit 2012 (Pittsburgh, PA, U.S., Oct. 22-24).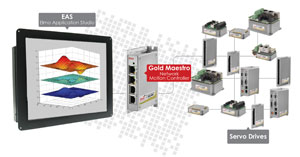 Elmo's solution comprises a multi-axis network controller (Gold Maestro) that handles up to 100 axes and supports EtherCAT and CANopen; the Elmo Application Studio (EAS) design environment that can program, tune, configure, optimize, set-up, and network any single and multi-axis servo drive application; and three lines of high-density servo drives that are compliant with a wide range of industry standards and protocols.

This solution allows Elmo to accommodate efficiently and consistently the automated motion requirements of any application with any level of complexity, any level of precision, any motion or combination of motions, any power requirement, any voltage, any servo drive motor, any environment, and any feedback.

To continue to do so, Elmo invests heavily in R&D to develop new solutions and products and to expand existing ones. For example, the Whistle and Gold Whistle servo drive lines now have a 200 V power range, the Trombone 12 A/400 V has been expanded to 16 A/400 V, and the Gold Trombone 8 A/800 V to 12 A/800 V.

These products can be explored at Elmo's booth, as well as the new, 65 kW Gold Drum HV 100 A/800 V servo drive ? an ideal servo drive for high, power demanding industry applications, varying from machine tools, big Gantry systems, spherical robot arms, pick and place machines, and many others. It provides exceptional power/volume and servo performances, incomparable to any other solution available in the market today.

About Elmo Motion Control
Elmo designs and manufactures cutting-edge servo drives and network motion controllers that are one-stop solutions for any motion control technology. As a leading global company with over 20 years' experience, we bring our clients profitability and success. Due to our focus on performance, reliability, safety, and compliance, our solutions have been integrated in a wide variety of industries from the industrial to the military.