ELMO - PUMA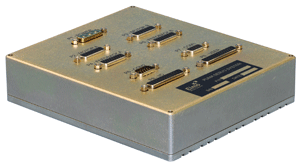 Elmo announced today that after the interest shown by Eurosatory visitors, the PUMA, a compact rugged MIL casing that is a complete motion control system will be introduced at AUVSI 2012 in Las Vegas.
The PUMA is built of Elmo's military multi-axis network controller, the Gold Lion, and two powerful Gold Hornet military servo drives of up to 40A/100VDC. The PUMA "masters" these internal servo drives and can control up to 98 "external" additional servo drives via an EtherCAT or CANopen field bus.
As part of Elmo's ExtrIQ range for applications operating in extreme environmental conditions, the PUMA is precise, durable, reliable, and ruggedized. It has also been designed, qualified, verified, manufactured and tested to meet the most stringent military standards making it ready-to-use MIL applications such as: firing control devices, rotational tables with angular motion, antennas, radar, cameras, pedestals, turrets, airborne systems, and winglets control.
Additional features:
Host communication protocols such as Ethernet, RS-422, and Modbus
A rich, high-level, user-friendly motion control environment
Fast, easy and most efficient axis tuning
Optional "on-board" customization
Environmental capabilities: Ambient operating temperature of -40° C to +70° C; mechanical operating vibrations of 20 Hz – 2000 Hz, 14.6 GRMS (X, Y, Z); altitude of -1000 ft. to +510,000 ft. and mechanical operating shock of ±20G (X, Y, Z)
Commenting on the positive feedback received since the PUMA's was introduced, John McLaughlin, Elmo US Manager, said that "as veterans in the military industry, we developed the PUMA with a deep understanding of how important 'ready-to-use' solutions are for our customers. The PUMA extends Elmo's offering to a full Military solution that advances our proven precision, durability, field reliability, ruggedization, and the compliance with stringent MIL standards."
About Elmo
Elmo designs a full line of cutting edge, MIL grade motion controllers and servo drives that are one-stop solutions for any application. We are involved in over 100 military projects worldwide, some of which have been in operation for many years and are still going strong. Due to our focus on performance, reliability, durability, safety, and compliance with a wide range of standards and protocols, our solutions have been integrated by world leading machine manufacturers in the military arena. We bring our customers profitability, success and solutions that are ready-to-use, ready for the extreme, and ready to take on any military application!