Elmo Motion Control Demonstrates its New Record in Servo Power Density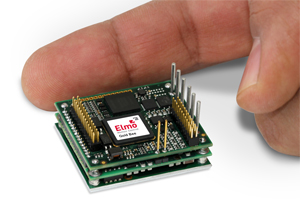 Elmo Motion Control, a leading provider of smart and super-efficient motion control solutions, demonstrates its new record in servo power density: over 4000 W out of only 8.7 cm3 (0.53 inch3).

In addition to its superior servo performance and its ultra-small size, the GOLD BEE was designed and qualified to operate in extreme environmental conditions from -40° C to + 70° C, and mechanical vibrations up to 14 GRMS.

The GOLD BEE is new member of Elmo's GOLD Line servo drives and thus includes all the capabilities, features and functionalities of the "field proven" GOLD Core. The GOLD BEE, as any other GOLD Drive, is capable in conjunction to the EASII software (Elmo Application Studio II) to optimize the control results of any servo mechanism.
"The GOLD BEE is a real world record. We improved the efficiency by 200%, reduced the volume by 75% and increased the power density by more than 400%.

Customers' needs are challenging us to dramatically improve the power / size factor. The GOLD BEE is our solution for applications that have critical space constraints, requires a powerful servo, limited heat dissipation capabilities, and operate in extreme environments.

Actually, the servo control of winglets was our motivation to go even "Smarter, Smaller, and Simpler". Our very high powerful ultra-small servo drives enable "electrical motion control" of winglets, that significantly enhances the dynamics of the missile and thus reaching the required performance.

We're not aware of any product on the market today that attains this performance, power or size density", Haim Monhait, Elmo CEO concluded.

The GOLD BEE operates in current, velocity, and advanced position modes in conjunction with a permanent-magnet synchronous DC brush and brushless motors, and linear motor or voice coil. The GOLD BEE supports a wide variety of feedback sensors in single, dual and gantry loop configurations.

Based on the premise that "the best way to dissipate heat is not to generate it in the first place," the GOLD BEE incorporates Elmo's proprietary FASST (Fast and Soft Switching Technology) resulting in >99% efficiency with negligible EMI.