Elmo Motion Control - B-Hornet Servo Drives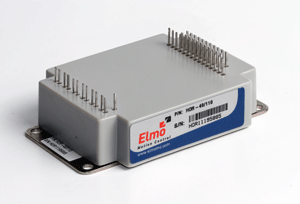 Elmo Motion Control, leaders in the military motion control arena for over 30 years, has enhanced its standard hornet military servo drives for applications requiring very high-power pulses out of a very compact package.
The ultra-compact B-Hornet boosts the standard 20A/120V Hornet to 40A/120V. It weighs only 1.8 oz (50 g), yet can 'burst' over 4000 watts of power to military applications such as winglets, UAV - Unmanned Aerial Vehicles, Gimbals, Turrets, and other unmanned vehicles. It can also withstand extended environmental conditions.
Based on Elmo's SimplIQ technology, the B-Hornet is also capable of operating in position, velocity and current modes and contains a wide range of feedbacks and I/O options. With Elmo Composer software, users can easily perform drive setup, configuration, tuning, analysis and programming. The drive operates on DC power and, as a PCB-mounted device, enables efficient and cost-saving implementation.
What makes the B-Hornet servo drive distinctive from other 40A drives on the market? "The huge difference is in its ultra small size, yet high power density," explains Haim Monhait, Elmo CEO. "Our customers are looking for a motion control solution that can meet the space limitations in their military applications, but that can still excel when it comes to power requirements and servo performance, which is the combination the B-type Hornet provides."
B-type Hornets:
Deliver extremely high power output
Emerge from an ultra small package
Ultra efficient with negligible heat dissipation
Produce high performance servo control
Additional dedicated control and power conversion functions
Withstand even more robust environmental conditions
About Elmo
Elmo designs a full line of cutting edge, MIL grade motion controllers and servo drives that are one-stop solutions for any application. We are involved in over 100 military projects worldwide, some of which have been in operation for many years and are still going strong. Due to our focus on performance, reliability, durability, safety, and compliance with a wide range of standards and protocols, our solutions have been integrated by world leading machine manufacturers in the military arena. We bring our customers profitability, success and solutions that are ready-to-use, ready for the extreme, and ready to take on any military application!