Elmo Introduces EASII Application Studio
Elmo Launches EASII, the Ultimate Tuning Tool that 'Walks You Through' the Entire Motion Implementation at SPS IPC Drives, Germany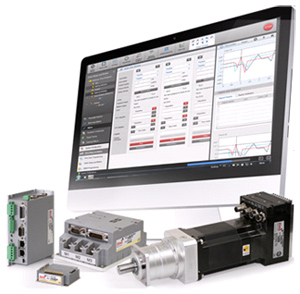 Elmo Motion Control unveiled its EASII Application Studio and its advanced Gold Duet integrated drive-motor solutions at SPS IPC Drives (Nov 26-28, Stand 365, Hall 4).
Elmo, a leading provider of advanced motion control solutions, displayed its "One Solution For Any Application" complete line of servo drives, advanced motion controllers and power supplies, able to run any motion scenario and meet the toughest servo requirements.
Elmo launched EASII, the exciting new generation of Elmo's Application Studio that "walks you through" the entire motion drive implementation, placing the full power of Elmo's knowledge at your fingertips. Windows®-based EASII shortens development time, introduces a set of new Quick Tuning wizards, and provides a complete motion control design and debugging environment enabling consummate drive optimization and control. Visitors to the SPS IPC Drives stand could try out the EASII Application Studio demonstration together with Elmo's complete range of servo drives and motion control products.

Elmo also introduced its new generation of rugged integrated drives and motors, the Gold Duet, an Ethercat drive-motor system that incorporates a high performance servo motors with intelligent Gold servo drives. The system is an electrical Cabinet "Terminator", plug-and-play, saves space, minimizes wiring, cuts EMI and reduces labor and maintenance costs. The Gold Duet is available in a full range of flange sizes (40, 60, 80, and 130) and power ranges (30 W – 5 kW).
In addition, Elmo presented its new, highly-resilient AC bus servo drive series. Extremely compact and offering the highest density of power and intelligence available, the series delivers up to 25 kW of continuous power from rectified AC input of up to 3x528 V, with 40 A continuous current. The series incorporates Elmo's unified Gold Line servo core that can optimize any mechanical load, even in the most demanding non- linear, very high resolution systems.
The Gold servo drives on display at SPS IPC Drives are an integral part of Elmo's motion control solution. The Gold line offers outstanding performance with a rich selection of features: intelligent motion functions (OC, Master-Slave Follower, Modulo, Dynamic Braking, ECAM,PIP Cascaded Vector Control, I2t Protection); DS-402 profile modes (cyclic position, velocity and current); the ability to handle any feedback (incremental encoders, analog encoders, any absolute encoders, and resolvers); 1D/2D/3D error correction; STO safety standard compliance; up to 65 kW of power, and; UL and IEC 61800 certification to 800 VDC and 530 VAC. The Gold line is fully compliant with both CANopen and EtherCAT protocols.
About Elmo Motion Control
Elmo designs and manufactures cutting-edge servo drives and network motion controllers that are one-stop solutions for any motion control technology. As a leading global company with over 25 years of experience and millions of servos at work worldwide, we bring our clients profitability and success. With a focus on performance, reliability, safety and standards compliance, our solutions are integrated in a wide variety of applications from industrial to military. Visit us at www.elmomc.com.