ELMO - ExtrIQ Servo Drive Modules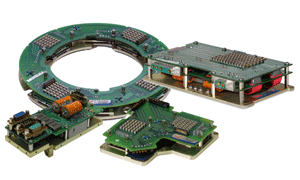 Elmo's ExtrIQ characteristics allow a great flexibility and ease of customization. The high power density, top level of functionalities, richness of features, high efficiency, negligible EMI and super compact board-level modules, make tailoring the modules to meet any form, shape and function, a simple task.
Elmo Motion Control, leaders in the military motion control arena for over 30 years, will introduce at AUVSI 2012 Las Vegas (booth 3351) its new range of precise, durable, reliable, and ruggedized servo drive solutions for the unique requirements of military applications.
The customized solutions bring the highest density of power and intelligence to the military motion control arena. They comprise comprehensive solutions for applications with 4-axes, 3-axes, 2-axes and 1-axis in any shape and features. They are also designed, qualified, verified, manufactured and tested to meet stringent military standards making them ready-to-use!
The 4-Axes Solution comprises 4 servo drives of 40 A/120 VDC each; supplies 16,000 w of qualitative output power; has 24,000 w of power regeneration capabilities, and provides high-performance position, velocity, current, and dual loop operation.
The super-compact, high-power 3-Axes Solution features triple axis integration; 3 servo drives of 30 A/100 VDC each; and an extraordinary current loop performance- Bandwidth greater than 4 kHz!
The 2-Axes Solution includes two Elmo Hornet 40/110 servo drives each up to 40 A and up to 120 VDC; has a qualitative output power of 8 kW; power regeneration capabilities of 12 kW; and like the 3-Axes model, provides high-performance position, velocity, current, and dual loop operation.
For applications where size does matter, the ultra-miniature 1-Axis Solution offers high-power and single axis integration. It includes an Elmo Butterfly R30/100 servo drive of up to 30 A and up to 100 VDC and matches the current loop performance of the 3-Axes Solution (Bandwidth > 4 kHz).
Haim Monhait, Elmo CEO, explains that Elmo's "hi-tech, comprehensive, top-down solutions enable military applications to operate under extreme environmental conditions, incorporate senior and mature Motion and Servo technologies, and are based on proven, mature and existing technological solutions to ensure the fastest design process and shortest time-to-market. We offer the only solution for your military application!"
About Elmo
Elmo designs a full line of cutting edge, MIL grade motion controllers and servo drives that are one-stop solutions for any application. We are involved in over 100 military projects worldwide, some of which have been in operation for many years and are still going strong. Due to our focus on performance, reliability, durability, safety, and compliance with a wide range of standards and protocols, our solutions have been integrated by world leading machine manufacturers in the military arena. We bring our customers profitability, success and solutions that are ready-to-use, ready for the extreme, and ready to take on any military application!