Ellison Technologies Automation to Host Celebrate Manufacturing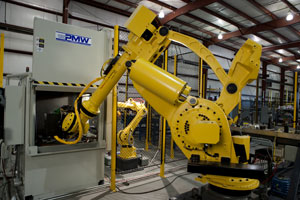 Council Bluffs, IA – Ellison Technologies Automation (ETA) will host 'Celebrate Manufacturing' a technology forum featuring robotic demonstrations and technical seminars focused on productivity-enhancing solutions for metal and non-metal manufacturers. Celebrate Manufacturing will be held at ETA in Council Bluffs, IA June 16-17, from 9 a.m. to 6 p.m.
"This event will help a wide range of companies learn about the latest robotic technologies, and how they can be applied to achieve higher levels of quality, efficiency and cost-savings," said John Burg, President, Ellison Technologies Automation.
"Attendees will have the opportunity to hear how other manufacturers have remained competitive in the toughest recession in recent history by implementing automation solutions in their production facilities," added Burg. "We're prepared to address the unique issues of a variety of industries including: metals, machine tools, plastics, food, and alternative energy, to name a few."
The event will combine robot system demonstrations, informative seminars and operating systems for machine load/unload, arc welding, picking, packing and palletizing applications. Other sessions will cover 2D and 3D robotic vision, force sensing, offline programming, simulation, customer support services, and robot programs for education.
Ellison Technologies Automation is located at 2906 21st Ave., Council Bluffs, IA 51501. For more information call 712-328-3410. To register for the event visit:
celebratemanufacturing.com
Founded in 1983, Ellison Technologies Automation, formerly Automated Concepts, Inc. is a recognized leader in robotic system integration. ET Automation has developed over 2000 flexible robotic cells for companies of all sizes as well as many manufacturing industries. For more information please contact Ellison Technologies Automation at http://www.ellisontechnologies.com/automation or by calling 712-328-3410.


Media Contact:
Debra Burg
Ellison Technologies Automation
Phone: (712) 328-3410