Eighth Annual "Leadership in Automation" Award Recognizes Teledyne DALSA as "First Team" Honoree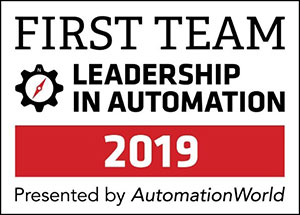 BILLERICA, Massachusetts - Teledyne DALSA, a Teledyne Technologies company and global leader in machine vision components and solutions has been named a First Team honoree in the vision system category for Automation World's 2019 Leadership in Automation Program. Teledyne DALSA's robust and flexible industrial vision solutions are designed to satisfy a broad variety of user requirements. From single standard smart camera configurations to high-performance multi-camera systems, the company provides both capability and versatility to suit a wide range of imaging applications across multiple industries.
Automation World, the leading business magazine serving automation professionals, launched this community-based program in 2011. Automation professionals were invited to vote for their favorite automation vendors in unaided-recall surveys. Over two dozen categories are featured, representing the wide variety of automation technologies, software and products in use by today's manufacturing professionals across the discrete, batch and continuous process manufacturing industries.
"We are pleased to be recognized as a First Team Honoree," said Steve Geraghty, Vice-President of Teledyne DALSA Industrial Imaging. "For almost 40 years we've designed and manufactured robust and high quality vision systems. To be acknowledged once again as a trustworthy and innovative leader in this industry is an honor in itself."
The Leadership in Automation First Team Honorees are recognized in Automation World's January 2019 issue.
About Teledyne DALSA's Machine Vision Products and Services
Teledyne DALSA is part of the Teledyne Imaging group and a world leader in the design, manufacture and deployment of digital imaging components for the machine vision market. Teledyne DALSA image sensors, cameras, smart cameras, frame grabbers, software, and vision solutions are used in thousands of automated inspection systems around the world and across multiple industries including semiconductor, solar cell, flat panel display, electronics, automotive, medical, packaging and general manufacturing. For more information, visit www.teledynedalsa.com/mv.
About Teledyne Digital Imaging, Inc.
Teledyne Digital Imaging, a Teledyne Technologies company, is an international leader in high performance digital imaging and semiconductors with approximately 1,000 employees worldwide, headquartered in Waterloo, Ontario, Canada. Established in 1980, the company designs, develops, manufactures and markets digital imaging products and solutions, in addition to providing specialized semiconductor products and services including MEMS. For more information, visit Teledyne Imaging's website at www.teledyneimaging.com.