Edmund Optics® Strengthens Leadership with Promotions at Corporate Headquarters and in Asia
rong>Samuel Sadoulet Named New Chief Operating Officer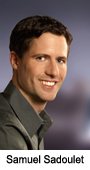 Barrington, NJ - Edmund Optics®, the premier provider of optical components, recently promoted Samuel Sadoulet to Chief Operating Officer. With this new appointment, Mr. Sadoulet will assume responsibility for the company's corporate technology, global engineering, and manufacturing operations.

"Our decision reflects the increased role that Sam has already been playing in the management of manufacturing, product development, technology development and overall operations," explained Robert Edmund, CEO. "He has shown exceptional ability to help translate the company's strategy and to coordinate this strategy among the key functional groups. We are very pleased to offer Sam this well deserved promotion."

Sadoulet is a member of the OSA, SPIE, and the Automated Imaging Association. He received his MS in optical sciences from the University of Arizona and BS in physics from the University of Rochester.

Asian Promotions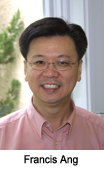 As Edmund Optics expands its Asia-Pacific operations to service a growing customer demand with the opening of a new global manufacturing, customer support, and distribution facility in Singapore, they have named Francis Ang as Senior Director, Global Manufacturing. Ang will have responsibilities over the development and execution of key manufacturing projects as well as serve as an advisor to EO's operations managers worldwide. His expertise in operations and technology will be extremely important in evolving EO's vision for manufacturing.

"Francis has exhibited extraordinary leadership and his personal dedication to EO's success is remarkable. He not only serves as a model for all our colleagues but also spearheaded the growth of our other global manufacturing facilities," stated Edmund.

Complementing Ang's appointment are the promotions of Vincent Thong, who accepted the position of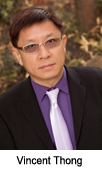 Managing Director, Edmund Optics Singapore, and Timothy Paul Kennedy as Sales Director of Asia, based out of Japan.

Thong will assume responsibility for the new manufacturing facility in Singapore. His years of experience in manufacturing operations and sales will be an important asset to the manufacturing group. "Vincent is driven by customer service, an essential element to running a successful plant," commented Edmund. "We look forward to his leadership and the continued strong performance of the Singapore operation."

Kennedy will assume the responsibility of Sales Director of Asia. His engineering background combined with a strong knowledge of EO customers, applications, and products makes him ideal to continue the company's international growth. "In addition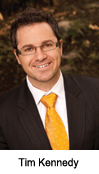 to Tim's technical background, he has lived and worked in a many diverse countries," stated Edmund. "Equally impressive is his ability to adapt to cultures and to master languages - something I know our global customers will certainly appreciate."

Feel free to offer your congratulations in person at Photonics West, Booth 1323, February 5-7, 2013 in San Francisco, CA (USA).

About EO

Edmund Optics® (EO) is a leading producer of optics, imaging, and photonics technology for R&D, electronics, semiconductor, pharmaceutical, biomedical, and military markets around the globe. EO is the world's largest supplier of off-the-shelf optical components. Customers can purchase items by contacting EO at 1-800-363-1992, via the catalog, or via the website.