Edmund Optics® Named 2018 Manufacturer of the Year by NJMEP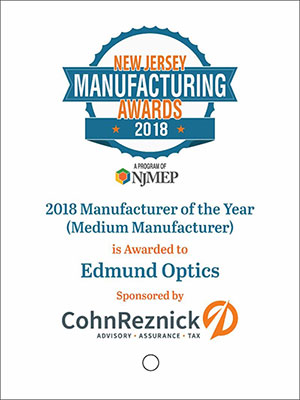 Recognized as a Standout Manufacturer in New Jersey

Barrington, NJ, USA - Edmund Optics®, the premier provider of optical components, was honored as a 2018 Business of the Year for companies that employ 51-250 employees by the New Jersey Manufacturing Extension Program.
After announcing the 2018 Manufacturing Award Finalists, The NJMEP presented the awards as part of the 7th annual Manufacturing Day on October 5th. Finalists for the 2018 Manufacturing Awards were based on nominations of companies who met specific criteria. These standout manufacturers were also recognized by their peers and the NJMEP for their industry leadership, innovation, growth, and a commitment to the development of their employees and communities.

"We have a long history in New Jersey," said Marisa Edmund, Chief Marketing Officer. "My grandfather, Norman Edmund, started this business out of his garage in New Jersey in 1942. We have a deep commitment to the manufacturing industry as well as the citizens of this state. We are extremely proud to be the recipient of the NJMEP award."

NJMEP works with New Jersey's small to mid-sized manufacturers to help them become more efficient, profitable and globally competitive. Edmund Optics® has been a member of Made in New Jersey, a program created by the NJMEP to highlight manufacturing in the Garden State.

About NJMEP
NJMEP is a private, not-for-profit organization that improves the profitability and competitiveness of New Jersey's manufacturers. Backed by the National Institute of Standards and Technology (NIST), NJMEP enables organizations to enhance their productivity and efficiencies, reduce costs, and improve employee performance. For more than 20 years, NJMEP has used its extensive network of connections and proven track record of success to help manufacturers adapt to the latest innovative technologies and best practices to realize more than $3.4 billion in value.

About EO
Edmund Optics®is a leading supplier of optics, imaging, and photonics technology for the Life Sciences, Biomedical, Semiconductor, R&D, and Defense markets around the globe. EO designs and manufactures a wide array of multi-element lenses, lens coatings, imaging systems, and optomechanical equipment, while supporting OEM applications with volume production of both stock and custom products. EO's state-of-the-art manufacturing capabilities, combined with its global distribution network, has earned it the position of the world's largest supplier of off-the-shelf optical components. Customers can purchase items by calling 1-800-363-1992, via the catalog or the website at www.edmundoptics.com.