Edmund Optics® Launches New Website
rong>Easier, Faster and Simpler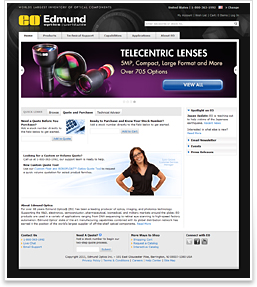 Barrington, NJ - Edmund Optics®, the premier provider of optical components, unveiled this week a new and dramatically simplified website that offers their customers easier navigation, quicker access to key features, improved product searches, even quicker download times, and a new and compact user interface.

"We are thrilled with the changes to our new site," proclaimed Robert Edmund, CEO. "We listened to the feedback from our customers and reworked our site to address their needs. It has been significantly simplified and we are sure that visitors to our site searching for products or technical information will appreciate our new streamlined version."

With some key reorganization of content and easier access to product and technical information, the newly reworked Edmund Optics website incorporates aspects of the latest web technologies to guarantee a successful browsing experience.

An overview of some of the new benefits to EO customers include:


Product Page enhancements featuring direct links to product subcategories, product family selections to narrow search results, and faster loading.
Simplified home page with reorganized content making it easier to take action at a glance, view multiple campaigns with separate calls to action, and a new tabbed interface with quicker access to key features such as Quick Links, Technical Advisor, and Quotes/Purchase.
The new cleaner home page also features a collapsible panel which can be clicked to reveal "Spotlight on EO," e-newsletters, events, and press releases.
The Technical Advisor section has links to application notes and EO's extensive video resources with new product reviews, trade show demos, tutorials, and for vision customers, their exciting EO Imaging Lab which has over 25 informative videos of EO vision products.
Enjoy the benefits of EO's newly revamped website by visiting www.edmundoptics.com today!

About EO
Edmund Optics® (EO) is a leading producer of optics, imaging, and photonics technology for R&D, electronics, semiconductor, pharmaceutical, biomedical, and military markets around the globe. EO is the world's largest supplier of off-the-shelf optical components. Customers can purchase items by contacting EO at 1-800-363-1992.

Company Contact:
Kirsten Bjork-Jones
Director Global Marketing Communications
Edmund Optics®, Inc.
101 East Gloucester Pike
Barrington, NJ 08007 U.S.A.
Phone: 1-800-363-1992
Fax: 1-856-573-6295