Edmund Optics Introduces New Ultra-Smooth TECHSPEC® λ/40 Laser Grade Aspheric Lenses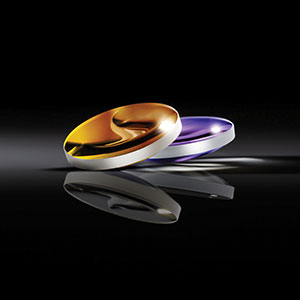 Ideal for High Precision Laser Focusing Applications
BARRINGTON, N.J. - Edmund Optics® (EO), the premier provider of optical components, announces a new line of Laser Grade Aspheric Lenses with a λ/40 RMS aspheric surface tolerance, making them ideal for high precision laser focusing applications.
TECHSPEC® λ/40 Laser Grade Aspheric Lenses feature ultra-precision and aberration-free aspheric surfaces with a surface tolerance of λ/40 RMS. They are precision polished using magnetorheological finishing (MRF), a process which selectively removes material in a highly repeatable and controlled manner. The polishing method used for these aspheric lenses enables diffraction-limited performance and a guaranteed exceptional Strehl ratio >0.8 at their Nd:YAG design wavelengths.
TECHSPEC λ/40 Laser Grade Aspheric Lenses maximize throughput with high-performance Laser Line V-Coatings for <0.25% reflection at their design wavelengths. These laser grade aspheres feature fused silica substrates and are available in standard imperial sizes with f/2 designs.
Visit EO's website to learn more about the TECHSPEC® λ/40 Laser Grade Aspheric Lenses.
About EO
Edmund Optics® (EO) is a leading global supplier of optics, imaging, and photonics technology that has served a variety of markets including Life Sciences, Biomedical, Industrial Inspection, Semiconductor, R&D, and Defense since 1942. EO designs and manufactures a wide array of optical components, multi-element lenses, imaging systems, and optomechanical equipment, while supporting OEM applications with volume production of stock and custom products. With locations in more than seven countries across the globe, EO employs over 1,000 employees and continues to expand.