Edmund Optics® Honored by Vision Systems Design 2016 Innovators Awards Program
v> TECHSPEC® Cx Series Fixed Focal Length Lenses Recognized with Silver Award
Barrington, NJ - Edmund Optics® (EO), the premier provider of optical components, announced today that it was awarded a Silver Level Award for its TECHSPEC® Cx Series Fixed Focal Length Lenses. These lenses were recognized among the best in the industry by the judges of the Vision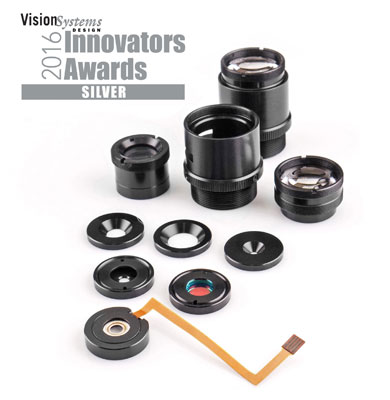 Systems Design 2016 Innovators Awards program. The judging panel consisted of esteemed experts from system integrator and end-user companies.
"It is an honor to receive this award. The speed at which the market is evolving is amazing with more advanced sensor technology coming on the market almost daily," said Gregory Hollows, Director of the Imaging Business Unit at Edmund Optics. "With this product, we attempted to give customers the flexibility required to rapidly meet their every changing technology demands while maintaining the highest level of performance, which Edmund Optics is known to produce."
EO's TECHSPEC® Cx Series Fixed Focal Length Lenses are designed with versatility and simplicity to easily meet your application needs. The modular 3-piece design allows the flexibility to integrate precision fixed apertures, internal filter holders, and liquid lenses into the assembly with ease. These lenses feature a simplified focus mechanism with easy to use lock nut and recessed set screws to lock focus position into place. The Cx Series lenses are ideal for applications such as Research and Development.
The Vision Systems Design 2016 Innovators Awards program reviews and recognizes the most innovative products and services in the vision and image processing industry. High-scoring companies were announced at The Vision Show 2016 held in Boston, Massachusetts. Criteria used in the Innovators Awards ranking included: originality, innovation; impact on designers, systems integrators and end-users; fulfilling a need in the market that hasn't been address, leveraging a novel technology, and increasing productivity.
About EO
Edmund Optics® (EO) is a leading producer of optics, imaging, and photonics technology for R&D, electronics, semiconductor, pharmaceutical, biomedical, and military markets around the globe. EO is the world's largest supplier of off-the-shelf optical components. Customers can purchase items by contacting EO at 1-800-363-1992, via the catalog, or via the website.
Editorial Contact
James Liolin
Media Relations/Content Marketing
Lion Associates
1-914-670-0138
Company Contact:
Kirsten Bjork-Jones
Director Global Marketing Communications
1-800-363-1992