Edmund Optics Appoints New Chief Financial Officer
Jason Mulliner, Executive Vice President of Finance, Accepts Position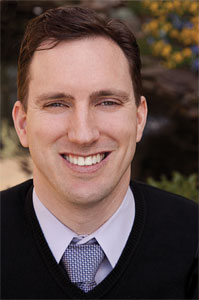 Barrington, NJ -- Edmund Optics (EO)®, the premier provider of optical components, is pleased to announce the promotion of Mr. Jason Mulliner to Chief Financial Officer. After holding several key operation positions within EO, it was a natural fit for Mulliner, who has a strong engineering background combined with financial and business savvy.

"We are truly fortunate to have a person of Jason's caliber join our executive team. His character, enthusiasm, knowledge, and engineering experience will be a great asset to the vital operations of our company," stated CEO Robert Edmund.

Mulliner will be advancing from his current position as Executive Vice President of Finance to take on the new responsibilities of the CFO. He has been preparing for this position for several years, serving as Director of Product Development, which strengthened his expertise in developing products from concept to distribution. Helping to forge a cohesive synergy among EO's major operations, Mulliner worked closely with engineering, purchasing, and inventory control - all critical functions in any company's success. His work experience and understanding of global markets will prove beneficial in his new position.

"It is an exciting opportunity for me and I look forward to my new challenges and role in developing and directing a global financial strategy that will steer the growth of Edmund Optics now and into future" said Mulliner.

Mulliner has spent time in Europe managing projects, adding this global experience to his extensive resume. Jason Mulliner holds a MBA in Finance from The Wharton School at the University of Pennsylvania and BS in Electrical Engineering from Brigham Young University. An accomplished technical author, he has published over 20 articles on such diverse topics as Optical Fiber Inspection Techniques to Infrared Measuring Techniques Using PC-based software.