Edmund Optics and PixeLINK® Announce Autofocus Lens Joint Product Interoperability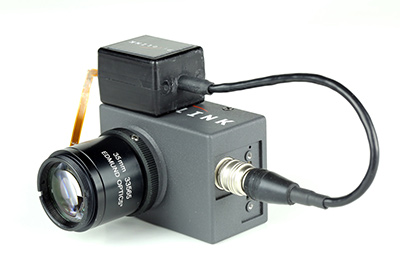 PixeLINK's autofocus camera technology integrates Edmund Optics line of Cx lenses
Stuttgart, Germany – PixeLINK, a world leader in autofocus cameras with liquid lens technology, has today announced a collaboration with Edmund Optics, a premier provider of optics, imaging, and photonics technology. The collaboration enhances the capabilities of PixeLINK's autofocus USB 3.0 cameras by accommodating Edmund Optics' line of Cx lenses, modular lenses that easily integrate elements such as internal filters or liquid lenses.
PixeLINK pioneered and recently released the first line of USB 3.0 cameras that incorporates Varioptic's liquid lens technology, and it now integrates Edmund Optics' Cx line of lenses. This breakthrough technology allows for optimized compatibility between the camera and the autofocus lens, enabling the user to acquire superb image quality in any fast-moving focus environment.
"The Cx line of lenses accommodates interchangeable liquid lens accessories and features a simplified focus mechanism." said Greg Hollows, Imaging Business Unit Director at Edmund Optics. "We are pleased to be able to offer the user the ability to capture high quality images in fast-moving unique situations by integrating these lenses with the liquid lens camera technology offered by PixeLINK."
"Giving our customers the ability to generate superior quality images, even when the object in focus is moving at high speed, is an important innovative achievement in this age of technology," said Paul Saunders, President of PixeLINK. "This is why we're excited to announce the integration of PixeLINK's USB 3.0 autofocus cameras with the broad range of innovative Cx lenses from Edmund Optics."
The USB 3.0 cameras from PixeLINK are C-mount and can be fitted with the 12mm, 16mm, 25mm, and 35mm Edmund Optics Cx lenses. This autofocus solution will be used in machine vision, medical, biotechnology and biometric applications and will be available on the Edmund catalogue in December or by contacting PixeLINK. The recently launched Cx Series features 4 different fixed focal length lenses with a user-adjustable mid-section allowing a maximum degree of flexibility working with filters, custom apertures or liquid lenses. The innovative lens design has been recognized by multiple respected technical magazines.
About Edmund Optics
Edmund Optics Inc. (EO) has been a leading supplier of optics and optical components and imaging products to industry since 1942, designing and manufacturing a wide array of multi-element lenses, lens coatings, imaging systems, and Opto-Mechanical equipment. Led by a staff of skilled optical engineers and scientists, EO is application focused and pursues new ways to implement optical technology, enabling advancements in semiconductor manufacturing, industrial metrology, and medical instrumentation.
About PixeLINK
PixeLINK designs and manufactures consistently reliable industrial and life science cameras for machine vision, medical imaging, biometrics, and microscopy applications. Since 1992, PixeLINK has designed, manufactured, and supported the imaging requirements of customers around the world. PixeLINK offers unmatched customer support and service, while providing the finest off-the-shelf, OEM and custom industrial imaging solutions to their customers.