Edmund Optics 2012 Higher Education Grant Program Now Accepting Applications
target="_blank" href="http://www.visiononline.org/contentClick.cfm?content_link_id=1320">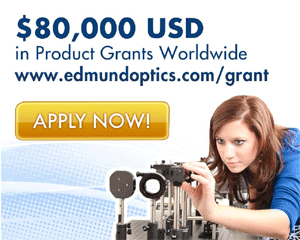 Edmund Optics, the premier provider of optical components, is now accepting applications for their 2012 Edmund Optics Higher Education Grant Program. In a continuing effort to support outstanding undergraduate and graduate optics programs in science, technology, engineering and mathematics at non-profit colleges and universities, Edmund Optics will be awarding grants worldwide totaling $80,000 USD in products.

"Because of the overwhelming success of our global grant program, we have increased the grant amount by 20% over last year for a total of $80,000 in products," said Kirsten Bjork-Jones, Director of Global Marketing Communications. "It's easy to apply and I would encourage anyone involved in a project using optics, opto-mechanics or imaging components at a non-profit college or university to do so. Edmund Optics remains committed to supporting outstanding research programs and inspiring the next generation of optical innovation."

To apply for the EO grant, just visit www.edmundoptics.com/grant or www.edmundoptics.com/research and click on the "Apply Now" button. The application requests information about you, the Higher Ed Optics Program in which you are involved and the types of products you would select if (i) your Program were awarded a grant and (ii) you could direct how the grant was spent. The entire process takes less than 8 minutes.

The process for selecting Grant winners is determined by the EO Grant Team. After thorough review of applications, finalists are selected and asked to provide more detailed information about their programs. Grant recipients are then selected based on the following criteria: technical merit and innovative use of optics in a research setting or lab. Finalists will be notified by July 25, 2012 and winning Grant Recipients notified on September 14, 2012. Complete Terms and Conditions can be found online.

To learn more about the 2011 and 2010 grant recipients and their winning programs, please visit the website.

Grant applications can be found at http://www.edmundoptics.com/grant and must be submitted by June 30, 2012. Grant awards to be announced on September 14, 2012.