Edgewater Automation Receives Technology Award from Delphi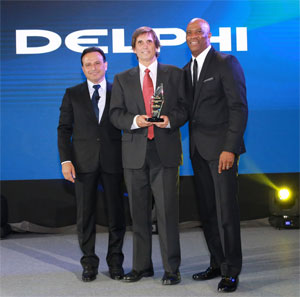 Edgewater Automation today received the 2014 Technology Award from Delphi Automotive PLC during its Global Supplier Conference & Pinnacle Awards event in Shanghai, China.
The award recognized Edgewater Automation for its focus on innovation, transformative technology and exceptional customer service.
Rick Blake, Edgewater Automation Founder and President, accepted the award during a gala dinner at Hilton Hongqiao. "Edgewater Automation is honored to receive this recognition of our continuing commitment to provide innovative factory automation solutions for our customers' worldwide success," said Blake. "We are privileged to have the opportunity to work with Delphi and look forward to the future ahead."
"As a premier global automotive supplier, Delphi values its strategic partnerships with suppliers who share our passion for excellence and innovation," said Sidney Johnson, Delphi senior vice president, global supply management. "And as our OE customers architect the vehicles of the future, technological game-changers become increasing relevant."
Delphi recognized five suppliers from two countries with its 2014 Technology Award.
About Edgewater Automation
Founded in 2001, Edgewater Automation designs and manufactures global factory automation solutions for a wide variety of industries. Edgewater Automation has multiple locations with total in-house capabilities in St. Joseph, Michigan and Spartanburg, South Carolina. Featured three times on the Inc. 5000 list of fastest growing companies in America, Edgewater Automation is constantly improving and growing in talent, experience, and technology.