ECO-BlackLine and EVO-BlackLine Series Cameras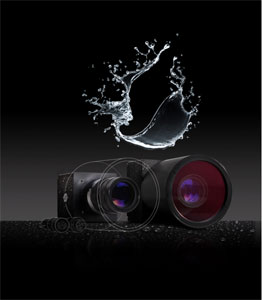 SVS-VISTEK announces the expansion of its SV-CAM camera lines by introducing the BlackLine series. The complimentary ECO-BlackLine and EVO-BlackLine series bring outstanding image quality and very high frame rates by utilizing the most popular Sony sensors and the latest 4-Tap progressive scan CCD sensor technology from Truesense Imaging.

The SVS-VISTEK BlackLine standard makes creating effective and efficient solutions for industrial automation easy by joining the camera requirements of industrial machine design, control engineering and image processing into a single product series while providing a simple and cost-effective solution.
Installation in harsh environments without the need for extra protection
High sourcing and cost efficiency through the use of standardized, industrial-grade M12 cable connections
Installation without complicated external devices thanks to built-in LED lighting drivers and controllers
High quality images in every situation through flexible trigger and exposure modes
Optimized image read-out times thanks to considerably faster image transfer
Maximum flexibility for OEM requirements
The BlackLine standard provides the features asked for by system integrators and OEMs around the globe.
ECO-BlackLine series: 10 resolutions from VGA to 5 Megapixels (14 Bit ADC) 1-tap CCDs, 10-150Hz frame rate
EVO-BlackLine series: 1, 2, 4 and 8 Megapixels (14 Bit ADC) 4-Tap CCDs, 17-150Hz frame rate
IP67 protection class (incl. lens tube)
Protective lens tube accessory available with AR-coated glass, IR-Cut filter and Polycarbonate windows
Standardized industrial M12-8 Ethernet connector rated for 10 Gigabit
EVO-BlackLine has dual aggregated M12-8 Ethernet output connectors
Standardized industrial M12-12 connector for power and extensive I/O for SPS connectivity
LED controller for up to 4 independently controllable channels supplying PWM power for LEDs
Sequence shutter and LED controller provide endless possibilities for the perfect exposure
Practical trigger modes: Logic, Pulse Width, Edge and Software triggers
Industrial standard power input range (10-25 VDC +/- 20%)
High-performance temperature management
Vist www.svs-vistek.com/blackline - click on the tabs to the right and find out what advantages the new SVS-VISTEK ECO-BlackLine and EVO-BlackLine cameras can provide to you and your company. 

About SVS-VISTEK
As a designer of digital high-performance cameras and having comprehensive machine vision expertise, SVS-VISTEK is one of Germany's most innovative manufacturers of industrial cameras, a reliable supplier of components for machine vision and a specialist for highly integrated imaging systems and solutions. Founded in 1987 SVS-VISTEK has 25 years of comprehensive expertise in the machine vision market.


Since 1999 the company has been developing and manufacturing its own cameras. To this day 100% of
SVS-VISTEK's cameras are designed and manufactured near Munich in Seefeld, Germany. The company's cameras are produced under strict quality control, assembled in clean rooms on-site and tested with state-of-the-art testing technology.

SVCam-high-performance CCD cameras made by SVS-VISTEK
"SVCam" stands for high-performance CCD cameras developed and manufactured in modular designs which can be tailored to meet specific customer requirements. In total there are currently five camera lines, representing high-performance camera technology which allows us to match the specific needs of our customers.

Whether the application requires minimum size (SVCam-ECO), particular slim design (SV-Cam-SLC), high speed (SVCam-CF and EVO), or maximum resolution (SVCamHR), SVS-VISTEK delivers. Our cameras are more than just superior technology: the products are backed by an organization that is highly efficient, lean and customer-oriented in all of its processes. We achieve maximum quality through a careful selection of our suppliers and by a continuous and constructive dialogue with our partners. This ensures that our products and process fully satisfy the needs of our valued customers.

Global presence
SVS-VISTEK offers global sales and support through a world-wide network of highly skilled partners in more than 20 countries. Through close relationships with these especially competent local partners, SVS-VISTEK is able to provide its first-class quality cameras and professional support to demanding customers around the world.