Easily Protect against Surge Voltage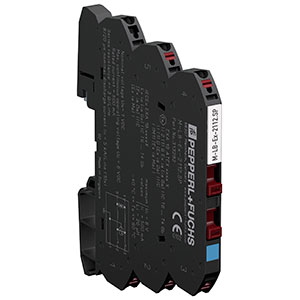 The new M-LB-2000 system offers surge protection with nothing more than a loop disconnect function for easy maintenance and commissioning, making it ideal for use in applications that only require a minimal specification.
The M-LB-2000 can also be used as a superior alternative to terminal blocks with surge protection. The terminal blocks can be replaced by the 6.2 mm slim modules with no additional space required. The one-piece devices can be mounted on a standard DIN mounting rail, are approved for applications up to SIL 3, and are certified in accordance with ATEX and IECEx up to Zone 1. This makes the M-LB-2000 system the ideal complement to the M-LB-5000 surge protection system - the two-part system that offers diagnostic functions.
The M-LB-5000 with condition monitoring function has patented diagnostics and uses a special algorithm to detect different overload situations that can cause the surge protection functionality to wear out. This improves the availability of the protective function, and therefore the system as a whole, while minimizing maintenance costs. The traffic-light display on each protection module greatly reduces testing work, as the fault can very easily be assigned to a specific signal circuit.
This system also offers considerable advantages over other solutions when it comes to maintenance. For example, the base module on the DIN mounting rail stops the signal from being interrupted when the protection module is disconnected. A protection module can therefore be replaced without affecting plant operation. However, if the signal circuit needs to be intentionally interrupted - for isolation tests during commissioning, for example - the protection module can simply be rotated by 180 degrees and plugged in. In this case, the signal circuit is interrupted by an integrated isolating function.