Dual Camera Link Interface Enables IMX174 Imager to Run at 165 fps in Newest JAI Go Series Camera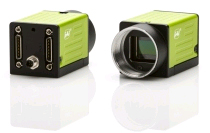 SAN JOSE, CA – JAI today has introduced the GO-2400-PMCL, the newest member of its Go Series of small and lightweight industrial cameras. The new camera is equipped with a two-channel Mini Camera Link interface enabling its Sony IMX174 CMOS imager to output full resolution 2.35-megapixel images at up to 165.5 frames per second in 8-bit continuous mode.
Cameras with the IMX174 imager have become increasingly popular due to the low-noise qualities of its CMOS imager technology. The imager features 5.86-micron square pixels, a 1936 x 1216 pixel resolution, and a full well depth of over 30,000 electrons. This advanced technology results in a signal-to-noise ratio of over 60 dB and a standard dynamic range of nearly 72 dB.
As part of JAI's Go Series, the new GO-2400-PMCL places the IMX174 into a small and versatile form factor (29 mm x 29 mm x 41.5 mm, excluding lens mount) weighing only 46 grams – one of the lightest cameras available at this resolution. More importantly, the camera is built to high industrial-grade standards including an 80G shock rating, 10G vibration rating, and an operating temperature range of -5°C to +45°C, helping it to achieve a mean-time-between-failure (MTBF) specification of over 200,000 hours.
Two new GO-2400-PMCL models are available – the GO-2400M-PMCL with 8- or 10-bit monochrome output (including near-infrared sensitivity), and the GO-2400C-PMCL offering 8- or 10-bit raw Bayer color output.
Standard features include a high-performance global shutter with speeds as fast as 15 µs, and a region-of-interest (ROI) function for windowing the field of view to achieve faster frame rates or to utilize smaller optical formats than the camera's 1/1.2" standard C-mount format. A multi-ROI mode is also provided as a standard feature.
Other features include pixel blemish compensation and shading correction functions, and a built-in 256-point look-up table for gamma customization. Monochrome models also are equipped with a binning function (1x2, 2x1, 2x2) for increasing pixel sensitivity.
The GO-2400-PMCL cameras can be powered over the Camera Link interface. Alternatively, a 4-pin connector can also be used to power the camera, giving users the option of using less expensive "non-powered" Camera Link frame grabbers when needed.
About JAI
JAI is a manufacturer of high quality, industrial-grade cameras for the machine vision, transportation, food & beverage, aerospace, medical and scientific markets.
JAI's broad product line features high performance progressive scan CCD and CMOS cameras with spatial resolutions from VGA to 20 megapixels. It also includes a range of innovative multi-imager prism-block cameras including both area scan and line scan models.
Physical interfaces include the Camera Link®, GigE Vision®, CoaXPress, and USB3 Vision high performance digital standards, as well as both TV-standard and analog progressive scan output.
JAI cameras help improve customer businesses in a variety of ways, whether by improving quality and accuracy, lowering costs, increasing yields, or simply enabling better service. In addition to cameras, JAI's traffic solutions group is one of the world's leading manufacturers of specialized traffic systems. Solutions are based on JAI-developed hardware and software, which is often integrated with third-party products.
Company Contact
Rich Dickerson
Tel: 408-383-4394