DR1-D2048x1088(I/C)-G2 Camera Series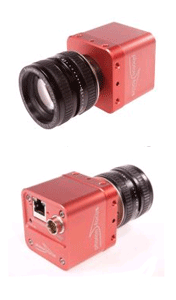 Photonfocus extends its DR1 double rate camera series with three new camera models. Following the earlier models, which are based on the Photonfocus A1312(IE) high dynamic range CMOS sensors, the new DR1-D2048x1088(I/C)-192-G2-8 (I for NIR and C for color) camera series features the CMOSIS CMV2000 2MP low light image sensor. Photonfocus has enhanced the double rate codec for RGB color and can now offer a camera line-up covering the full spectrum of low light through HDR in color, monochrome and enhanced NIR.
Using the Photonfocus online frame rate calculator you can calculate the frame rate with a region of interest and exposure time. Frame Rates: Full Resolution of 2048 x 1048 at 85fps, Region of Interest of 1024 x 1024 at 180fps and Region of Interest of 512 x 512 at 709fps.
The entire Photonfocus DR1 camera series is 100% GigE Vision and GenICam compatible allowing images to be captured with any standard image library. Photonfocus offers a GigE Vision player and SDK and popular 3rd Party software packages such as MVTec Halcon and NorPix StreamPix offer modules to support the double rate technology.